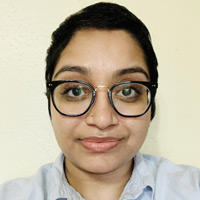 Cancer Research Training Award Fellow
Contact:
Prema S. Bhattacharjee is a Cancer Research Training Award (CRTA) Fellow with the Implementation Science Team in the Office of the Director in the Division of Cancer Control and Population Sciences (DCCPS) at the National Cancer Institute. A returning fellow to DCCPS, Prema completed a CRTA fellowship, in 2017, with the Epidemiology and Genomics Research Program's Environmental Epidemiology Branch.
Prema's research interests include etiology of oncogenic infectious agents, health disparities, health inequity, social determinants of health, social epidemiology, maternal/child health, and cancer screening/prevention. She is currently a third year PhD Candidate at the University of South Carolina and she's hoping to integrate outcomes from her fellowship into dissertation research.
Prema received her MPH from the Louisiana Health Sciences Center in Infectious Epidemiology in New Orleans, LA.
Last Updated
July 15, 2021