Ongoing Global Health Projects
International Guideline Harmonization Group for the Metabolic Syndrome
Emily Tonorezos, the new director of NCI's Office of Cancer Survivorship, is co-leader of the International Guideline Harmonization Group for the Metabolic Syndrome, along with Janine Nuver of the University of Groningen in the Netherlands. This effort develops evidence-based international guidelines for adult survivors of pediatric cancer (www.ighg.org

).
Spanish-Language Version of NCCOR Resource
The National Collaborative on Childhood Obesity Research (NCCOR) has released a Spanish language version of its popular Youth Compendium of Physical Activities

resource. The Youth Compendium of Physical Activities provides a list of 196 common activities in which youth participate and the estimated energy cost associated with each activity. The Spanish version includes activities common in Spain, Mexico, and Colombia. This resource was translated in response to the rise of childhood obesity in Latin America and a need identified by NCCOR members and Latin American researchers for a tool to help address the growing epidemic. David Berrigan and Kathy Watson (CDC) spearheaded this effort.
SBM-NCI Collaborative Effort on Health Behavior and Climate Change
Susan Czajkowski, Kara Hall, and Pat Boyd, partnered with the Society of Behavioral Medicine's (SBM's) Immediate Past President Michael Diefenbach to plan a webinar in July 2020, titled "The Fundamentals of Climate Change and Health Behavior Change." The panel of leading international experts presented research on the intersection of climate change and health behavior change. This webinar is the first in a series for an SBM-NCI collaborative effort to advance research that can help individuals and communities engage in behaviors that synergistically benefit both human health and the global environment. Dr. Hall is leading the development of the second webinar in this series, "Climate Change, Behavior Change, and Health: Tackling Global Challenges Together," which is focused on advancing transdisciplinary climate change, behavior change, and health research. The webinar will take place in early Fall. Additionally, Dr. Hall is serving as co-chair of the SBM Presidential Working Group onClimate Change, Behavior Change, and Health.
International Initiative on Interoception in the Service of Allostasis
DCCPS staff, including Paige Green, are involved in a work group on the Interoception in the Service of Allostasis initiative, which aims to identify research gaps and advance fundamental knowledge of interoception in the service of predictive energy regulation. The work group is chaired by Lisa Barrett and Karen Quigley, both from Northeastern University, and includes some international scientists at the leading edge of basic interoception science.
Global Health Research and Training Initiatives
US Embassy Science Fellowship
Pam Marcus was awarded a US Embassy Science Fellowship and spent 5 weeks in January and February 2020 in Pohnpei, Federated States of Micronesia. She was posted at the US Embassy Kolonia and spent most of her time investigating betel nut chewing habits and the emerging oral cavity cancer problem. She developed a betel nut use and attitudes questionnaire, which was completed by the 18 Embassy Guards. While in Pohnpei, Pam met with leaders in the state and national health departments, as well as public health students at the National Campus of the College of Micronesia, and attended a workshop on the roll-out of data from a 2019 study on risk factors for non-communicable diseases. She also experienced the fanfare that accompanies the departure of one US Ambassador and the arrival of another. Pam's favorite part of her visit was spending time with Pohnpeians and answering their questions about cancer and health, and taking care of the four 2-month-old Embassy kittens (Zoey, Zander, Zelda, and Rocky). Non-work-related major accomplishments included developing a taste for raw tuna and driving a Ford Explorer.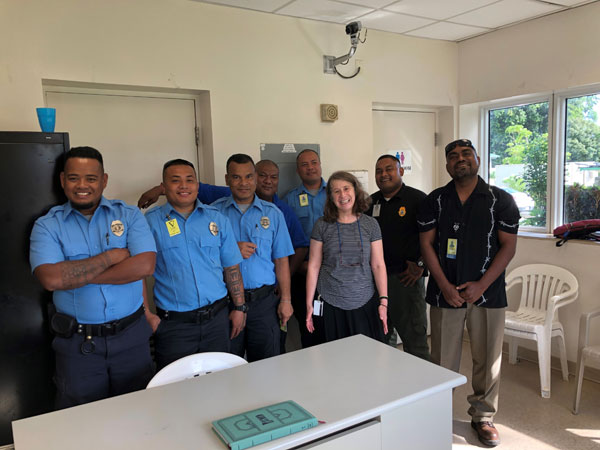 US Embassy Kolonia Guards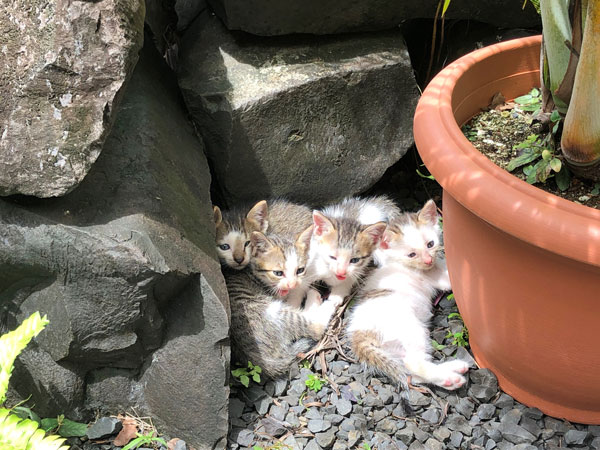 US Embassy Kolonia kittens (Zoey, Zander, Zelda, and Rocky).
ICARE Survey
Susan Czajkowski and Sudha Sivaram (NCI's Center for Global Health [CGH]) have provided comments to the Montreal Behavioural Medicine Center and helped disseminate an international survey called ICARE, developed to gather data on preventive behaviors, attitudes, and perceptions related to COVID-19 across a diverse array of 38 countries. The survey is available in 36 languages, and a third wave of the survey is currently being disseminated globally.
Pre-application Webinar and FOA on Global Tobacco Research
The Center for Global Health (CGH) in collaboration with DCCPS released a funding opportunity announcement, "Tobacco Use and HIV in Low- and Middle-Income Countries" (RFA-CA-20-037), for transdisciplinary teams to conduct research supporting the development and evaluation of tobacco cessation interventions tailored to people living with HIV (PLWH) in one or more low- and middle-income countries. A pre-application webinar was held on August, 17, 2020, and materials are available online. Applications are due September 24, 2020.
International Society for Computational Biology Annual Conference
Kara Hall gave a virtual presentation at the International Society for Computational Biology annual conference

on Tuesday, July 14, 2020. It was part of a special track on biomedical data science, with focus on biomedical applications surrounding adoption of artificial intelligence and machine learning by the biomedical community. Dr. Hall's presentation, titled "Fostering a Collaborative Workforce: 'Moneyball' for Team Science," was part of a session on "Developing New AI/ML-BioMed Experts to Enhance our Workforce."
Nigeria National Universities Commission's Research and Training Summit
Damali Martin participated in the Nigerian National Universities Commission's Research and Training Summit on July 1-3, 2020, where she presented on "Developing Cancer Epidemiology Consortia." The goal of the summit was to foster collaborations between Nigerian Academics and Nigerians/Non-Nigerians in the Diaspora through collaborative research and training, and to foster the development of collaborations that will integrate and synergize the expertise, infrastructure, and resources for research and training. Kalina Duncan and Mishka Cira of NCI CGH were also part of the planning committee for the summit.
International Network for the Science of Team Science Conference
Kara Hall delivered a "Team Science 101" workshop to an international audience at the virtual International Network for the Science of Team Science conference

on June 1-4, 2020.
International Behavioural Trials Network Conference
Susan Czajkowski moderated a session on "Behavioural Solutions for Global Challenges – Health and Climate Change" for the International Behavioural Trials Network virtual conference

on May 28, 2020.
Third International HundredK+ Cohort Consortium (IHCC) Summit
Nonye Harvey, Joanne Elena, and Kathy Helzlsouer represented the NCI Cohort Consortium (an affiliate member of the IHCC) at the 3rd International Cohorts Summit

, held virtually May 4-5, 2020. The summit was hosted by the Global Genomic Collaborative in collaboration with the US National Human Genomic Research Institute (NHGRI). The summit brought together approximately 160 scientists from more than 23 countries to discuss ongoing and new areas for collaborative research in large-scale prospective cohort studies involving at least 100,000 study participants. Discussion during the summit led to several key actions: to galvanize around the consortium's visionary charter, to mobilize global efforts to address the COVID-19 pandemic, to introduce the IHCC to a Cohort Data Atlas to facilitate cross-cohort collaborations, and to engage the full membership in developing a scientific agenda that would leverage the cohorts and data in advancing key global research priorities.
Scientific Meeting on Physical Activity and Health Research
An R13 titled "Latin American Congress on Physical Activity and Health Research" was recently funded by NCI with support from the NIH Office of Disease Prevention. The meeting will be held in Summer 2021 and will feature an emphasis of physical activity and cancer. Deborah Salvo of Washington University is the principal investigator, and David Berrigan is the program director.