Ongoing Global Health Projects
Childhood Obesity Prevention Across Borders
As highlighted previously, David Berrigan and Susan Czajkowski are involved in a trans-NIH initiative to catalyze research collaborations between the US and Latin American countries. The group published

a Special Issue in Obesity titled Childhood Obesity Prevention Across Borders: The Promise of US-Latin American Research Collaboration. The supplement has now been translated into Spanish

. The NIH Fogarty International Center coordinated the issue, and it was co-funded by NCI and other NIH Institutes and Offices.
WCRF/AICR Score Added to Diet Assessment Research Resources
EGRP recently expanded its offering of diet assessment research resources to include the World Cancer Research Fund/American Institute for Cancer Research (WCRF/AICR) Score. This standardized scoring system can be used by researchers to assess adherence to the WCRF/AICR Cancer Prevention Recommendations and examine associations with cancer and other health-related outcomes. Jill Reedy and Marissa Shams-White were part of the international team that developed the WCRF/AICR score.
Global Health Research and Training Initiatives
Caribbean Course on Cancer Registration: Basic Principles and Methods
On November 16-18, 2021, the Caribbean Course on Cancer Registration: Basic Principles and Methods was hosted by the Caribbean Hub at CARPHA

(Caribbean Public Health Agency) and included their collaborating center at Martinique. They are part of the Global Initiative for Cancer Registry Development

(GICR). Faculty and participants included staff from the International Agency for Research on Cancer (IARC) and cancer registry leaders from other Caribbean countries, including those affiliated with the Organization of Eastern Caribbean States (OECS). The faculty included Gonçalo Forjaz, formerly of SRP, who is now a senior research associate at Westat and a GICR regional trainer in CanReg5. The conference was recorded, and material will be made available on the Caribbean Hub website at https://caribbeancrh.carpha.org/

.
Public Health Communication Strategies Discussed with International Communications Professionals
On November 4, 2021, Robin Vanderpool and Sylvia Chou met with a cohort of Distinguished Humphrey Fellows

, international professionals managing communications in their respective home country governments. Specifically, Drs. Vanderpool and Chou met with staff from the Ministry of Health of the Republic of Uzbekistan, Ministry of Health of the Kyrgyz Republic, and the Government of Uzbekistan, regarding COVID-19 vaccine hesitancy and related public health initiatives, as well as cancer communication strategies.
NCI Director Says Global Cooperation Is High Priority for Agency During Interview
In a video on the Vimeo

(November 3, 2021) site, NCI Director Ned Sharpless was interviewed by the Economist during the Annual World Cancer Series: Europe. Dr. Sharpless said, "The National Cancer Institute believes we have a real duty to work, to address oncology globally, and so global cooperation, international cooperation is a high priority for us." He continued, "We have a Center for Global Health. It's 10 years old. It's tried to facilitate cancer research and learn from cancer research in other countries to improve our research and care in the United States."
CASPHR Work Group Annual Meeting Focuses on Climate Change, Cancer, and Health

Pat Boyd, Susan Czajkowski, and Amanda Acevedo coordinated the annual scientific meeting of the Cognitive, Affective, and Social Processes in Health Research (CASPHR) Work Group on December 2-3, 2021. The theme for this year's meeting was "Climate change, cancer, and health: a multilevel examination of sustainable health behavior change." International experts from Middlesex University and University of Cambridge were among the distinguished panel of speakers.
International Association of Surgeons, Gastroenterologists, and Oncologists 2021 World Congress
Paul Jacobsen spoke virtually on November 22, 2021, at the International Association of Surgeons, Gastroenterologists, and Oncologists 2021 World Congress. The meeting occurred in Taiwan. Dr. Jacobsen spoke on "Improving outcomes for cancer survivors: the role of healthcare delivery research."
DCCPS Staff Presented at Several Sessions at AORTC Conference in Africa
Program staff from DCCPS, along with colleagues across several NCI divisions and centers, worked with the African Organization for Research and Training in Cancer (AORTC) International Conference on Cancer in Africa

organizers to co-convene multiple program sessions during the November 5-10, 2021, virtual meeting led by NCI's Center for Global Health (CGH). Satish Gopal (CGH) provided the opening remarks. Gila Neta and Patti Gravitt (CGH and former DCCPS grantee) moderated a session on implementation science. Tram Kim Lam, Ann Chao (CGH), and Xin Wang (Center for Cancer Research) served as co-chairs for the session on hepatobiliary cancer. Dr. Lam also facilitated the comorbidities and cancer session with Stefan Ambs (Center for Cancer Research). Mark Parascandola (CGH) facilitated a plenary session on tobacco control where cost-effective tobacco control measures, strategies for monitoring and countering tobacco industry influence, and how research can enhance implementation and scale up of tobacco prevention and cessation programs were highlighted with a discussion about what the cancer community can do to advance tobacco control in Africa.
DCCPS International Interest Group Meeting to Highlight DCCPS Grantee Research
The DCCPS International Interest Group will jumpstart the new year with an extended meeting (January 11, 2022, from 1:00 - 2:30 p.m. EST) highlighting international work of a few of our grantees across multiple DCCPS programs. DCCPS Director Katrina Goddard will provide the welcoming remarks and CGH Deputy Director Patti Gravitt will share her vision on global cancer research and highlight the collaborations between CGH and DCCPS. A meeting invitation with details will be forthcoming from Ali Abazeed. Join from the meeting link

.
OCS Director's Series, in Partnership with the NCI Center for Global Health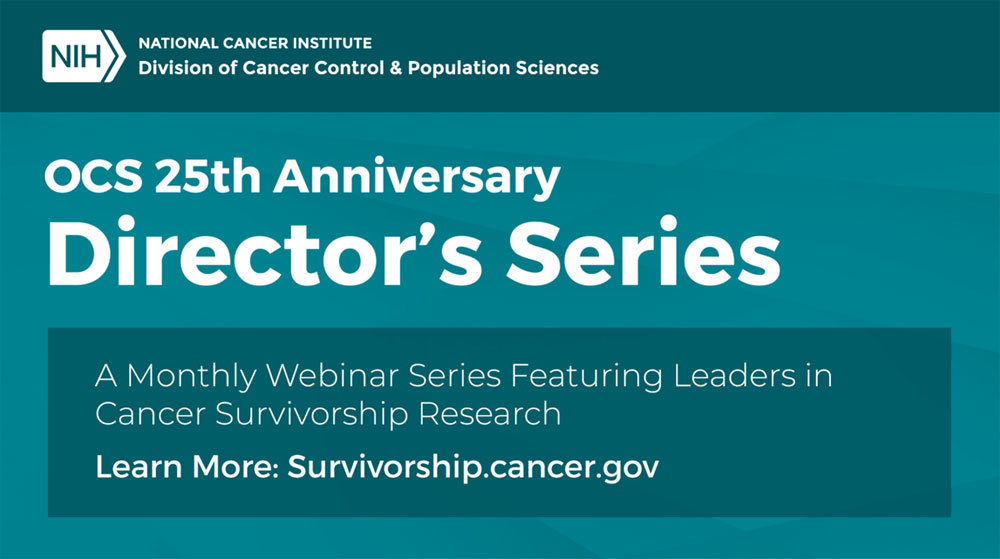 On January 25, 2022, Stephen Kimani, of the Huntsman Cancer Institute at the University of Utah, will present "Missed opportunities for supportive care across the cancer care continuum in Malawi: perspectives from survivors of lymphoma and breast cancer."

This webinar is a partnership between the NCI Office of Cancer Survivorship (OCS) and CGH, as part of the OCS Director's Series. The intended audience is researchers, advocates, policymakers, and those working in global health who focus on cancer care delivery and survivorship in low-resource settings.