Office of Cancer Survivorship
"Cure Is Not Enough"
In 1974, Giulio "Dan" D'Angio, a pioneering radiation oncologist, wrote a seminal paper on the need for cancer survivorship research and clinical care, called "Pediatric Cancer in Perspective: Cure Is Not Enough." Advances in treatment had led to remarkable improvement in prognosis, particularly in his field of pediatric oncology. But Dr. D'Angio recognized the harmful effects of therapy, and he advocated for care that would minimize complications, also bearing in mind the heavy psychosocial and economic burdens of cancer and its treatment.
Other early leaders joined Dr. D'Angio in calling attention to the importance of understanding and addressing life after cancer, and, as the number of cancer survivors continued to grow, so too did the field of cancer survivorship. When the NCI Office of Cancer Survivorship (OCS) was created in 1996, 25 years ago — thanks largely to the efforts of the survivorship advocacy community — there were an estimated 8.4 million cancer survivors. Today, there are more than 17 million cancer survivors; by 2040, that number is expected to climb to over 26 million.
OCS celebrates the success of cancer diagnosis and treatment, while at the same time acknowledging the struggles and challenges of long-term and late effects. The office was influential in the publication of the 2006 landmark IOM report From Cancer Patient to Cancer Survivor: Lost in Transition, which outlined 10 recommendations to enhance the care of the growing survivor population as they transitioned into life post-treatment. The report included key contributions by Dr. Julia Rowland, the OCS director at the time, regarding NCI-funded survivorship research. In 2016, Dr. Rowland again joined other cancer survivorship champions in Going Beyond Being Lost in Transition: A Decade of Progress in Cancer Survivorship, which reflected on the successes in the field but noted the continued efforts needed "to ensure all survivors receive quality, comprehensive, and coordinated care."
Over the years, the office has supported the growth of the field in terms of numbers and diversity of funded investigators and resources. The office's many collaborations, with organizations ranging from other government agencies to nonprofit foundations, have also been instrumental in helping to advance the cancer survivorship field. OCS co-led the Cancer Survivorship Telephone Workshop Series from 2003 until 2012, a free series that offered cancer survivors, their families, friends, and healthcare professionals practical information to help them cope with concerns and issues that arise after treatment ends. And from 2002 to 2016, OCS and partners held the Biennial Cancer Survivorship Research Conference, bringing together researchers, clinicians, cancer survivors, advocates, policymakers, and public health experts every 2 years to share and learn about the most up-to-date cancer survivorship research.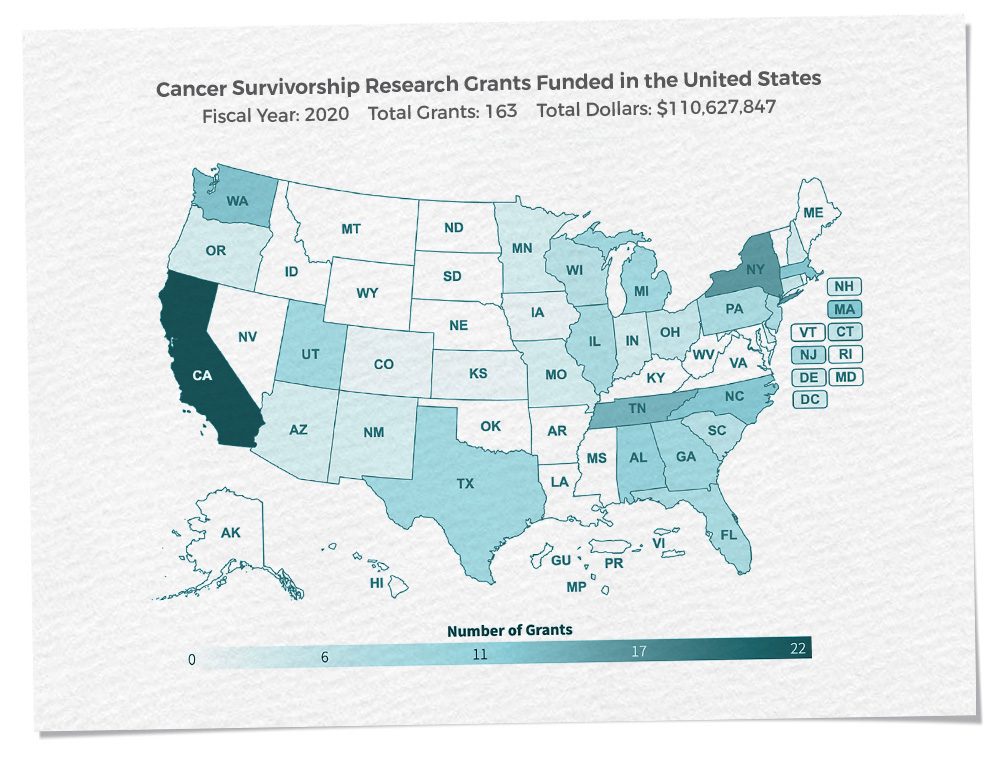 As the survivorship population grows and changes, the advocacy community in particular continues to play a vital role, most recently ensuring that survivors with advanced or metastatic cancer are not excluded from the cancer survivorship conversation nor resources. Many survivors will continue to be treated for cancer throughout their life and, thus, would not utilize the many resources created for "life after cancer." OCS recognized the importance of acknowledging this growing population of cancer survivors and correspondingly changed its definition of "survivor" to formally recognize that there are many different types of survivors. The office also brought together stakeholders for a meeting in May 2021 focused on survivors with advanced and metastatic cancers, to explore areas of high priority for research in that specific survivor population.
OCS's quest to better understand and improve the lives of all cancer survivors is far-reaching. The office recognizes, as Dr. D'Angio did years ago, the importance of multidisciplinary research. OCS supports diverse studies that focus on obesity and cancer, aging and accelerated aging in cancer survivors, digital tools to aid in diagnosis and cancer care, financial toxicity, care coordination, genetic and genomic susceptibility to toxicities, and survivorship health disparities in minority and underserved communities, among many other areas of research. In addition, with the 2018 Childhood Cancer STAR Act, NCI has been able to further support research to improve the care and quality of life of pediatric and AYA cancer survivors. The recently released AHRQ technical brief Disparities and Barriers to Pediatric Cancer Survivorship Care, commissioned by NCI, is one of three evidence reviews that will inform next steps in childhood and AYA survivorship research; this year's cancer center supplement awards that were focused on childhood cancer survivorship disparities build on this work.
In the future, the office will focus on these and other areas of research, including long-term and late effects of new and emerging therapies, creating new opportunities for training, mentoring, and education in survivorship, and supporting primary care–oriented survivorship research and clinical care. In this 25th anniversary year, OCS continues to recognize its most critical role in cancer survivorship: bringing together and supporting the people, the ideas, and the work that ultimately will improve the well-being of all cancer survivors.
Footnote
D'Angio, G.J. (1975), Pediatric cancer in perspective: Cure is not enough. Cancer, 35: 866–870.