2020 Overview and Highlights
ADVANCING IMPLEMENTATION SCIENCE AT NCI
A look back at fiscal year 2020 for NCI's Division of Cancer Control and Population Sciences
Download the 2020 Report
Message From the Director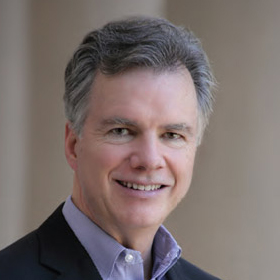 This year, we have faced unprecedented challenges to public health and well-being, with the devastation from COVID-19 and intensified concerns about racial inequality. In our work, both have critical implications for research and population health outcomes. Every year, we share this report to spotlight cross-cutting work across the cancer control continuum, from prevention to diagnosis and treatment to survivorship, where progress and innovation are all the more important given the ongoing crises. In light of these challenges, we've chosen to feature a key area of science that is integrated into the research supported across the division, as well as across the National Institutes of Health (NIH) more broadly, which strategically seeks to reduce the burden of cancer through multidisciplinary teams, innovative approaches, and community engagement: implementation science.
Implementation science bridges the gap between research and practice to ultimately improve individual and population health outcomes. The opportunities to improve population health by optimizing care delivery strategies, collaborating with key stakeholders in the research process, and building capacity in clinical and community practice settings are all central to implementation science. Recently in the cancer research enterprise, implementation science has been elevated to a starring role by NIH, the National Cancer Institute (NCI), the Cancer MoonshotSM Blue Ribbon Panel, and numerous professional organizations and advocacy groups. There has been a tremendous expansion of related activities in cancer control planning and care delivery, reflecting the recognition among researchers, clinicians, and other stakeholders that strategies to promote cost-effective, optimal cancer care require examination through an implementation science lens.
Leadership for implementation science funding, initiatives, training, methods development, resources, and tools resides largely within DCCPS. The division's Implementation Science Team oversees these efforts, working to support the research community and promote the adoption and integration of evidence-based practices, interventions, and policies into routine care and public health settings. In close partnership and collaboration with our colleagues across NIH, this team works with our funded researchers, practitioners, policymakers, and advocates to improve the impact of cancer control research on population health through sustained support of implementation science at NCI.
While it is not possible to capture the full spectrum of implementation science activities at NCI in these few pages, we hope this report provides a helpful glimpse of the critical role of implementation science in cancer control as well as the various ways our division works to advance science across the cancer control continuum. As always, we acknowledge the work of our funded investigators, who continue to move the science forward and help ensure that our research investments have the most rapid impact for all Americans.