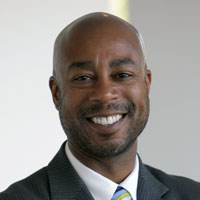 Contact:
Dr. Gary L. Ellison is the deputy director of the Division of Cancer Control and Population Sciences (DCCPS) at the National Cancer Institute (NCI). Prior to his current position, Dr. Ellison was the chief of the Environmental Epidemiology Branch (EEB) in the division's Epidemiology and Genomics Research Program (EGRP), where he oversaw extramural research focused on modifiable factors and cancer risk. Dr. Ellison led program directors within EEB with expertise spanning all domains of the exposome, including the general external (e.g., broader social context), specific external (e.g., lifestyle factors; environmental pollutants; chemical, physical, and infectious agents), and internal environments (e.g., biomarkers of effect, early damage). He joined EGRP as an epidemiologist and program director in 2008, becoming chief of EEB in 2016.
Dr. Ellison was an ex-officio member of the National Advisory Environmental Health Sciences Council (NAEHS). He also served as acting director of the Division of Extramural Research and Training at the National Institute of Environmental Health Sciences in 2021.
Dr. Ellison has received NIH Directors' Awards for the 2010 Gulf Oil Spill Response (2011); NIH Working Group for the US-China Biomedical Research Cooperation Program (2013); GEOHealth Team for conceptualizing and implementing the Global Environmental and Occupational Health (GEOHealth) Program (2018); and for excellence in the development and management of the Breast Cancer and the Environment Research Program (2020). In 2014, he received an NIH Award of Merit for providing sustained leadership, scientific direction, and programmatic management for the Breast Cancer and the Environment Research Program.
Prior to joining EGRP, Dr. Ellison worked as a faculty member in the Department of Family and Community Medicine at the University of Maryland School of Medicine. He was also a contractor for the Centers for Disease Control and Prevention, where he was project manager for the National Program of Cancer Registries Cancer Surveillance System (NPCR-CSS). There, he led a multidisciplinary team in aggregating cancer incidence data and reporting on quality, timeliness, and completeness of state cancer registry data.
Dr. Ellison holds a Master of Public Health from the Division of Biostatistics at Emory University Rollins School of Public Health and a PhD in epidemiology from the University of South Carolina. Dr. Ellison's doctoral training was in cancer epidemiology, with an emphasis on racial disparities in prostate cancer risk. He completed postdoctoral training at Howard University's National Human Genome Center in Washington, DC, and at NCI as a cancer prevention fellow.
Last Updated
September 26, 2022