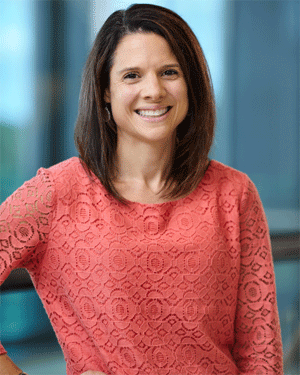 Deputy Director
OFFICE OF CANCER SURVIVORSHIP

PROGRAM DIRECTOR
OUTCOMES RESEARCH BRANCH
HEALTHCARE DELIVERY RESEARCH PROGRAM (SECONDARY APPOINTMENT)
Contact:
Michelle Mollica, PhD, MPH, RN, OCN, serves as deputy director of the NCI Office of Cancer Survivorship. In this role, Dr. Mollica is responsible for developing, supporting, and promoting research efforts focused on cancer survivorship. Dr. Mollica also holds a secondary appointment as a program director in the Outcomes Research Branch (ORB) of the Healthcare Delivery Research Program, where she manages a research portfolio of grants focused on cancer survivorship and healthcare delivery across the lifecourse, from childhood through older adulthood. Dr. Mollica serves as scientific lead for several recent notices of funding opportunities focused on specific aspects of survivorship care.
With an enduring interest in improving care for those impacted by cancer, Dr. Mollica has specific expertise in the intersection of survivorship and healthcare delivery, including the transition into post-treatment survivorship, models of survivorship and palliative care, integration of oncology and non-oncology providers, and special survivorship populations (e.g., individuals living with advanced and metastatic cancers, cancer caregivers, and pediatric and adolescent and young adult cancer survivors). She has a background in mixed methods research and community-engaged research, and has experience conducting qualitative research and intervention development in underserved populations.
Dr. Mollica came to NCI as a Cancer Prevention Fellow in ORB, before serving as a program director in the branch. Prior to NCI, Dr. Mollica spent over 10 years working clinically as an oncology nurse at Mount Sinai Hospital in New York City and at Roswell Park Comprehensive Cancer Center in Buffalo, NY.
Education
PhD – Nursing Science, Medical University of South Carolina
MPH – Community Health and Health Behavior, University at Buffalo
MSN – Nursing Education, Daemen College
BSN – Nursing, Columbia University
BS – Biology, Canisius College
Licenses/Certifications
Registered Nurse
Oncology Certified Nurse
Last Updated
August 31, 2023