Brittany grew up playing basketball, starting to play at the age of 8. While on the court in eighth grade, she noticed her teammates couldn't hear her when she would yell to them during games. She continued to lose her voice – particularly concerning for an outgoing, middle-school girl whose voice allowed her to connect with friends, family, and teammates.
Determined to figure out why she was losing her voice, Brittany saw a series of doctors. It wasn't until her vocal cords were examined that her doctor realized that one of her cords was paralyzed. A follow-up scan revealed that she had multiple tumors in her neck, one of which was sitting on a nerve that was feeding her vocal cord, causing the paralysis. A biopsy confirmed the diagnosis of papillary thyroid cancer.
Although no 13-year-old wants to hear "You have cancer," Brittany remembers feeling a sense of relief after having been through six months of medical appointments and tests. "I think there was some sense of 'Okay, well, at least now we know what it is, so we can do something about it.'"
Brittany and her medical team agreed that she would first undergo surgery to remove the affected parts of her thyroid. During the surgery, however, the surgeon found that the cancer was not largely on one side of her thyroid, as they had thought, but was much more extensive. The decision was made to remove her entire thyroid, in addition to many of the surrounding lymph nodes. "I woke up from surgery and was told they were unable to salvage the nerve that was feeding my vocal cord because of how the tumor had wrapped around it." Brittany was then told that she would have permanent vocal cord paralysis and would not be able to speak normally.
Soon after that first surgery, Brittany began radioactive iodine (RAI) treatment to kill the remaining thyroid cells that might be cancerous. Because RAI treatment causes people to be radioactive for a period of time, she had to be completely isolated from her loved ones. Thankfully, the treatment was successful. Scans showed that Brittany did not have any detectable cancer in her body.
After the RAI treatment, Brittany could focus on her permanent vocal cord paralysis. Because of the paralysis, she also experienced issues with choking when she would try to eat or drink. She underwent surgery to place an implant that allowed her to be able to speak, eat, and drink. Ten years later, Brittany underwent another surgery to replace the implant, in order to strengthen her voice.
Seeking Support
Brittany's family and friends were a strong support system throughout her cancer experience. Because she was diagnosed at a young age, Brittany was still dependent on her parents. They helped coordinate her appointments, navigate the healthcare system, and drive her to appointments; and they provided unwavering emotional and mental support.
Her friends were also crucial and provided a shoulder to cry on. "But, most importantly, my friends let me be a normal teenage girl. I felt like I could put behind cancer and everything going on for a little bit and just gossip and talk about life as a teenager."
Advocating for the Best Path Forward
Facing a cancer diagnosis at 13 and living in a rural area, Brittany and her family quickly realized that the doctors in their local community may not have the expertise needed for her situation. In fact, Brittany's doctors recommended she seek a second opinion, and she was referred to New York for her treatment and follow-up care. Even today, Brittany continues to express gratitude that her parents were able to take her to and from their home state to New York to receive care.
Brittany's parents also helped her learn how to find her way in the healthcare system. "When you are going through a really scary time in your life, trying to navigate the system and keeping up with care can be really challenging."
With each transition in her life—including starting college and graduate school and marrying her husband, who is in the military—Brittany has had to establish care with new providers and advocate for herself in healthcare settings. "Finding support within the healthcare system that has the best expertise for you and empowers you as a patient is really important." 
From Patient to Researcher to Science Policy
As a teenage girl, Brittany was determined to not let her experience with cancer be her sole identity. Her diagnosis motivated her to learn more about the science behind her cancer and to help others. She eventually pursued a PhD in molecular biology and genetics at Johns Hopkins University School of Medicine, where she studied thyroid cancer. As part of her research, Brittany was able to go into operating rooms to collect tumor cells from patients who were having their thyroid removed, the same type of surgery that she underwent years before. Each tumor sample she collected was not a number, but a person. 
In recent years, Brittany has turned her attention to cancer advocacy and science policy, first as a science policy analyst and now as the director of regulatory affairs for Friends of Cancer Research, an advocacy organization that works across the healthcare sector on regulatory policies that impact people living with cancer. Throughout her career, Brittany has been able to wear hats as both a researcher and patient advocate to ensure patients' voices are heard.
Brittany also started the Thyroid Cancer Survivors' Association (ThyCa) Teen Support Group for teens diagnosed with thyroid cancer, a resource that she wished she had had after her own diagnosis. She had received care in a pediatric department, but she was a teenager when she was going through treatment. Throughout her cancer care, Brittany recognized the need to have services and resources for the population of people who were between pediatrics and adults, like she was.
In addition, Brittany has been very involved with the National Cancer Institute as a patient research advocate.  She is a founding and current member of the NCI Technology Research Advocacy Partnership (NTRAP), beginning in 2016, working with the NCI Innovative Molecular Analysis Technologies (IMAT) program and the Informatics Technology for Cancer Research (ITCR) program.  She has served as a member of the NCI Council of Research Advocates (NCRA) since 2022, a federal advisory committee at NCI comprised solely of advocate leaders.  She also has shared her experiences and insights during numerous invited speaking engagements.
Cancer as a Part, Not the Sum
When reflecting on what she would like to share with other people impacted by cancer, Brittany emphasizes that cancer is life-changing, but it is not your entire life.
"People are so much more than a cancer diagnosis, and they are so much more than a statistic." To Brittany, it is important to remember that the numbers and statistics are real people with stories and faces.
"While cancer does not consume or define me, it has greatly shaped me, and being able to recognize that has allowed me to help others. My goal is to make sure that I am using my voice in a valuable way for others that helps spark change."  
Published on: April 10, 2023
Return to Survivor Stories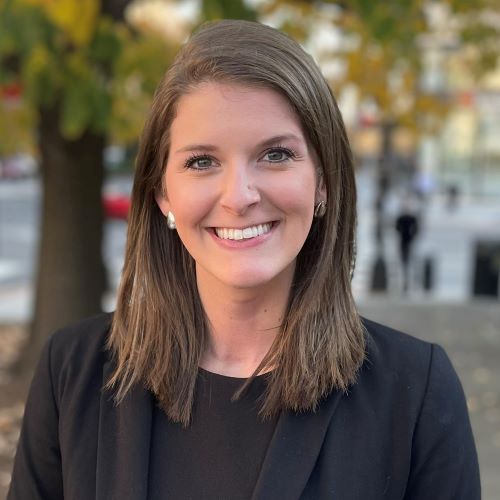 While cancer does not consume or define me, it has greatly shaped me, and being able to recognize that has allowed me to help others. My goal is to make sure that I am using my voice in a valuable way for others that helps spark change."
Last Updated
June 15, 2023