At the age of 25, Tamika was working her dream job as a television producer when cancer disrupted her life. She was diagnosed with cervical cancer during a routine Pap smear, and the only thing she wanted, at that moment in time, was to survive. Though her cancer was diagnosed early in stage 2, Tamika found the disease physically and emotionally taxing.
Tamika's care plan included surgery to remove her uterus and cervix, which would be followed by chemotherapy and radiation therapy. Treatment was difficult for her, and she often suffered from painful radiation burns on her body. Going through the treatment process showed Tamika newfound layers of her own vulnerability, but it also unlocked some of her hidden strengths, which helped her overcome challenges. One of the most difficult parts of Tamika's treatment was the surgery to remove her cervix and uterus, which resulted in the loss of her fertility. The surgery played a large part in saving her life, but Tamika struggled with defining herself as a woman after treatment. She had hoped to have a biological child of her own one day, but her insurance was unwilling to pay for the procedure to freeze her eggs, and she was unable to pay for it herself.
Though Tamika had difficulty adjusting to the changes in her life, she has always been grateful for her experiences with the medical system. She had great care throughout her treatment journey, an amazing medical team that worked to advocate for her when she was unable to, and insurance that covered the majority of her treatment. Tamika knows that there are a lot of people who aren't as lucky.
While Tamika is cancer-free today, she admits that cancer has impacted almost every aspect of her life. She says, "Once it comes into your life, you're constantly thinking about it." Post-treatment, she thought that she would bounce back to pre-cancer Tamika, and that was not the case. While her body was physically done with treatment, she wasn't fully healed. It took a while for her body to recover from the surgeries, radiation therapy, and chemotherapy. After recovering physically, she had to focus on healing emotionally. Cancer felt like a cloud hanging over her head, and she lived in a constant state of fear that it had come back, especially whenever she developed any pains in her body. She had to readjust to everyday life outside of cancer: no one was waiting to take her temperature, she didn't have any more medical therapy appointments to attend, and no one was constantly asking her how she felt on a scale of 1–10. Tamika struggled with keeping her cancer experiences in the past, and so did her friends and family. After treatment, she initially tried speaking with her immediate support system, but she was unable to find what she needed until she met with a mental health professional. Therapy allowed her to share her truths with someone who did not have any preconceived notions about her life. She was also able to take her feelings of anger and use them to fuel her ability to live beyond her cancer. Now Tamika thinks of her cancer as a reminder to live and not just exist in the world.
"Support is so incredibly important…it doesn't matter if you have a small support [system] or a huge village that's there to support you." Tamika's family, friends, church, co-workers, some initial strangers, and medical professionals constituted most of her support system. Despite the support that she was receiving, Tamika still felt like she lost her voice, and she often felt lonely. She didn't feel like cooking or cleaning, and sometimes she just wanted someone to sit with her without saying anything. She needed someone she could relate to, and that need wasn't met during her treatment journey.
Later in life, Tamika became what she didn't have and started sharing her story. She wanted to make a positive impact on others' lives and let people know that they were not alone in their struggles. As a result, Tamika started an organization, Cervivor, geared toward helping women with cervical cancer. Cervivor is a global community for cervical cancer survivors to share their difficulties, frustrations, and concerns, and aims to inspire and empower those affected by cervical cancer. Cervivor helps women with cervical cancer by educating and motivating them to use their voices for creating awareness to end stigma, influence decision and change, and end cervical cancer.
Tamika's life goal is to continue supporting other survivors, to impact them in a positive way and to let them know that there is life beyond cancer. She wants others to know that "whether you're a patient, a survivor, a caregiver, or someone that works in the community, know that you're not alone. If you need something, don't be afraid to ask, and if you can't verbally ask, email somebody. Find someone to speak for you on your behalf. So many people suffer [in] silence. Don't do it."
Published on: June 2, 2022
Return to Survivor Stories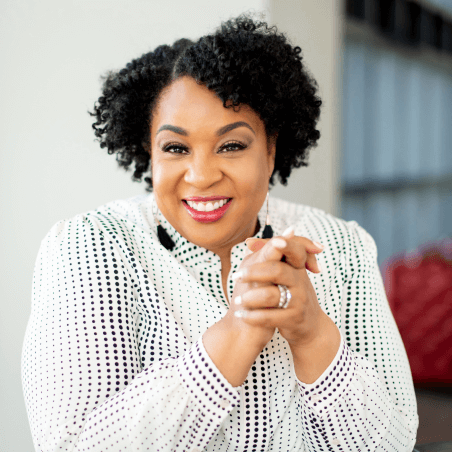 I know that tomorrow is truly not promised. That life can change in an instant, and that it's up to me to make a difference."
Last Updated
June 29, 2023