Survivor and Advocate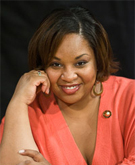 Diagnosed with cervical cancer at age 25, Tamika Felder had to deal with the stigma of a disease linked to an STD.
"I was surrounded by people who were very supportive and wonderful. But there were also a few people who said cruel things because my cancer was linked to a sexually transmitted virus," she recalls. "That was painful, and those people either ended up being cut out of my life or their place in my life was minimal."
Tamika had to have her cervix and uterus removed, and had chemotherapy and radiation to kill all the cancer cells. To this day, the most difficult part of the experience was realizing she'd never be able to give birth to a child. But financial strain was also an issue, due to all the medical expenses. Before cancer, she had been making a name for herself in the broadcasting industry, but after her diagnosis she was unable to pay her bills. With her career on hold, issues with money, and her social outlets affected, Tamika gave up on life.
"It's so easy to give up," she says. "I remember kissing my mom and my best friend goodbye in the hospital days after my surgery. The pain was unbearable and I just wanted it to be over with. But they wouldn't let me give up. They provided the strength I needed to continue fighting. And eventually, I realized cancer didn't have to be a death sentence."
I know that tomorrow is truly not promised. That life can change in an instant, and that it's up to me to make a difference."
Tamika made the decision to face the disease head on, and she fought for her life as hard as she could. If she lost her life, she decided, it wouldn't be because she gave up. Today, 10 years after her surgery and treatment, Tamika is once again working in broadcasting, as a television reporter and producer in Washington, D.C.
"I had an amazing support network and knew that I was in good hands with my health care," she says. "So my coping strategies became research and understanding for my disease. The more I learned, the more I was determined to beat it."
But at the same time, she's thankful to be here every day, aware that tomorrow isn't guaranteed. She started Tamika and Friends

, an advocacy organization, to offer financial help to women with cervical cancer and to educate people about the disease. Tamika now reaches women on a national level, getting the word out and giving support.
"Cancer completely changed my life," she says. "Once I finally embraced it and became a cancer advocate, it truly healed me, inside and out. My cancer experience has defined who I am now as a person. I know that tomorrow is truly not promised. That life can change in an instant, and that it's up to me to make a difference."
The story on this page was first featured in the book Cancer Adventures, by Marlys Johnson (Copyright © 2008 by Marlys Johnson). Both the story and the photograph are owned by the author and the survivor and are used with permission.
Last Updated
September 24, 2020