Building a career in survivorship research is rewarding – but also can be challenging. In addition to common needs like obtaining funding and creating collaborations, survivorship investigators have unique issues such as institutional and geographic isolation. Hearing from successful researchers and having a network of colleagues can make the path to a lifelong career in survivorship science easier. The NCI Office of Cancer Survivorship (OCS) New Investigators Series was created in 2022 with this goal in mind.
Upcoming Presentations
Navigating and Surviving the Twists and Turns of Survivorship Funding and Research
November 14, 2023
Register now.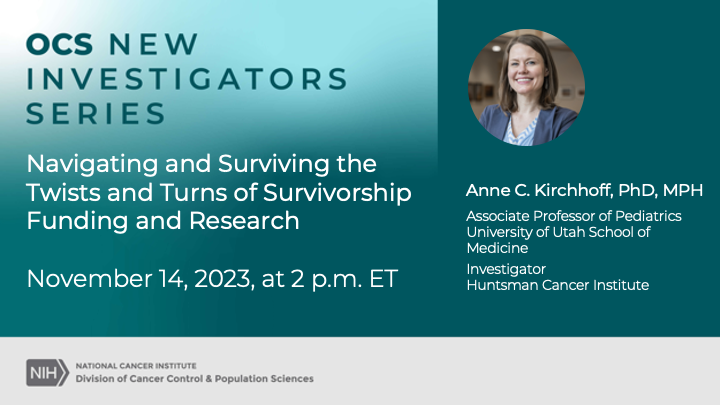 Past Presentations
The Value of Teams: Building a Research Career with Impact
May 23, 2023
In this webinar, Dr. Kristie Foley highlighted the importance of the right team, core elements, and specific attributes to achieve a career with impact.
The Rainbow Connection: Building a Career as an LGBTQ+ Scientist
January 31, 2023
In this presentation, Dr. Charles Kamen shared his personal and professional journey, as well as his words of advice for LGBTQ+ investigators forging careers in cancer research.
The Role of Persistence and Resilience in Turning Failure into Success
April 5, 2022
This presentation, featuring Dr. Supriya Mohile, was designed to support new and junior investigators focusing on survivorship research.
Survivorship Research in Oncology: Building Bridges
June 21, 2022
This presentation, featuring Dr. Jeffrey Meyerhardt, focused on how to build collaborations and create a sustainable career in cancer survivorship research.
Travels Along the Translational Continuum
September 13, 2022
This presentation, featuring Dr. Paul Jacobsen, utilizes the translational science continuum to illustrate how to inspire and sustain a career in survivorship research.
Last Updated
August 31, 2023