Rebecca's grandmother and mother were diagnosed with gynecological cancers when they were in their mid-40s. Because of her family history, Rebecca began routine doctor's appointments at the age of 30; she felt it was only a matter of time before she would receive a similar diagnosis. Unfortunately, at the age of 47, it was discovered that her uterine lining was thickening, and an endometrial biopsy in early 2010 revealed that she had a rare, type 2 endometrial cancer: uterine papillary serous carcinoma (UPSC). After receiving the news, Rebecca cried for an hour. She then felt relief. This terrible moment that she had been dreading for almost 30 years had finally occurred, and she was ready to act. She decided to face her diagnosis head-on and managed to set up appointments with gynecologic oncology surgeons and get multiple opinions within a few days.
Rebecca had a lot of life-changing circumstances thrown her way at the same time. During treatment, she was dealing with a recent divorce, trying to date again after 25 years of marriage, and living with her mother and son, who had moved in with her to help provide support. One of the biggest challenges Rebecca faced was working full-time throughout her treatment journey. While her job was willing to provide minor accommodations for her, such as allowing her to work from home one day a week on the weeks she received chemotherapy, Rebecca had already used up her sick leave, and her employer was not mandated to provide time off under the Family Medical Leave Act.
Rebecca's treatment included a radical hysterectomy with many lymph nodes removed, and chemotherapy infusions through a chemo port every three weeks for three months. The chemo often left her with nausea, fatigue, and severe body aches. She also had 25 pelvic radiation treatments and then another three months of chemotherapy. The treatments were hard on her, and though it was difficult for her to reach out for help, Rebecca kept her eyes and heart open to those who chose to support her.
In particular, Rebecca's mother and son provided a lot of support, with her son accompanying her to chemotherapy appointments and multiple surgeries. One of Rebecca's high school friends provided advice and resources, while one of her co-workers became a shoulder to lean on. Her classmate advised her to "find a doctor you trust and do everything they say." Rebecca took that message to heart and was very fortunate to receive care from a skillful and caring surgeon.
Rebecca's medical team was one of her most valuable resources, even in the years prior to her diagnosis of UPSC. Her OB/GYN was her care partner for 23 years before her diagnosis. During those years, and continuing after Rebecca's diagnosis, they worked together to stay up to date on the latest gynecological cancer research, and her OB/GYN supported her when she chose to get involved with research studies. Whenever Rebecca felt any abdominal or pelvic pain, her doctor took her seriously and was quick to order the necessary tests. Rebecca still fondly recalls receiving envelopes stuffed with pages from medical journals mailed to her by her doctor. Though she was hesitant at first, Rebecca also worked with a nurse navigator offered by her insurance during her cancer treatment. The nurse navigator was able to provide additional resources and support, making key aspects of Rebecca's care plan easier. For example, Rebecca  was able to self-administer her pegfilgrastim (Neulasta) injections at home instead of going to the hospital, and the nurse navigator was able to help when Rebecca's insurance company initially denied a PET/CT scan.
Rebecca still feels the effects of her cancer today but refuses to let it affect her too much. She has leg lymphedema and some neuropathy and doesn't have the stamina or the strength that she had before her diagnosis. She has acclimated by making small changes to her activities, like hiking in the woods instead of mountain climbing. She also continues to participate in yoga, which she has been practicing since 1993. 
Rebecca's life goal is to continue helping others while living life to the fullest. She volunteers as an angel mentor at Imerman Angels, an organization that provides one-on-one support to cancer survivors and caregivers. Rebecca has served as a production assistant on a documentary crew following a band called No Evidence of Disease (NED), made up entirely of gynecologic oncology surgeons, and she was also interviewed on Matthew Zachary's Stupid Cancer Show.
Rebecca would like others to know that it is okay to not always be brave. "There is so much pressure on cancer patients to be positive all the time…It is okay to cry, to rage against the world … to be scared to go to chemo." Rebecca also emphasizes the importance of therapy and support groups for others who may be going through similar situations. She didn't originally feel that she would want to participate in a support group, and it took time to find a group that was right for her. "I did eventually find one nearby. I learned that no matter what kind of cancer the people in the group had been diagnosed with, we all had similar concerns."
Published on: June 2, 2022
Return to Cancer Survivor and Caregiver Stories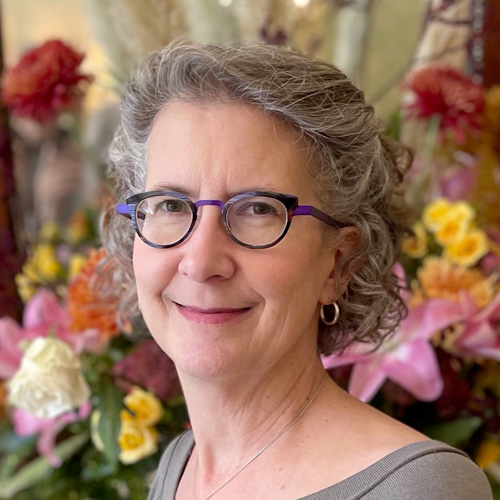 There is so much pressure on cancer patients to be positive all the time…It is okay to cry, to rage against the world … to be scared to go to chemo.
Last Updated
November 30, 2023