With improvements in diagnosis, treatment, and supportive care, the United States is now home to more than 18 million cancer survivors, representing about 5.4% of the population. [PMID: 35736631] This population includes more than 623,000 people who are living with the most common metastatic cancers, as well as many older adults and people with other types of illness or chronic conditions. [PMID: 35993614] Side effects from treatment, including functional limitations, impaired fertility, cognitive changes, and financial hardship, are common, leading many cancer survivors to experience lower quality of life and shortened lifespan. [PMID: 37166810; 34878107; 23112268; 31895405]
Importantly, the NCI Office of Cancer Survivorship defines a person as a cancer survivor from the time of diagnosis through the balance of life. Therefore, the field of survivorship science encompasses the heterogeneous needs and challenges of this population, as well as their caregivers, and includes preventing and mitigating acute and late-occurring physical, psychological, social, and economic effects of cancer and its treatment, improving care delivery, promoting healthy behaviors, developing and sustaining research infrastructure, and improving research methodologies. [PMID: 37301792] 
Within these goals and interest areas are multiple opportunities for integrating implementation science concepts and methodologies. In 2019, the NCI Office of Cancer Survivorship hosted a meeting of survivorship researchers and advocates, followed by an online meeting open to the broader survivorship community, for the purposes of identifying gaps and priorities in survivorship research. Cross-cutting areas of research identified in that meeting included a need to understand and address disparities among survivors, conduct longitudinal and longer-term follow-up studies, and to incorporate implementation strategies to better translate effective interventions into practice. [PMID: 33755126]
A recent publication analyzing the survivorship research grant portfolio at the National Institutes of Health described 586 grants funded during fiscal years 2017-2021. Almost 60% of the grants were intervention studies; of those, approximately one third (30%) were pilot or feasibility studies. Most interventions were focused on psychosocial or supportive care (32%), lifestyle or health behaviors (25%), and care delivery (19%). Of the 23 studies that were identified as implementation science, most (96%) were interventional (versus observational) in design, and focused on care delivery (70%), acute toxicities (17%), late and long-term effects (9%), or health promotion (4%). [PMID: 37301792]
Although not explored in the publication, some hypotheses for why more survivorship implementation science is not funded can be considered. One possibility is that because the population of cancer survivors is heterogeneous in terms of diagnosis, treatment exposures, social factors, and treatment setting, establishing an evidence base for what interventions to implement is difficult. Furthermore, survivorship studies may enroll from hospital-based populations or utilize convenience samples, leading to challenges in sample biases that may limit the generalizability of interventions. In order to participate in research, people diagnosed with cancer must be alive and available to be enrolled. The need for implementation science to benefit cancer survivors is clear. Recently, survivorship science has been featured in several NCI-supported implementation science initiatives. In December of 2019, the Healthcare Delivery Research Program and the Implementation Science Team in the Division of Cancer Control and Population Sciences hosted the Advancing Rapid Cycle Research in Cancer Care Delivery Fireside Chat webinar. Subsequently, NCI hosted the Advancing Rapid Cycle Research to Improve Cancer-Related Care virtual workshop. This two-day meeting featured discussion of current survivorship research utilizing adaptive implementation strategies that met the definition of rapid cycle research: a rigorous approach to conducting interventional research that seeks ways to maximize the timeliness and efficiency of the process for generating answers to questions of practical interest and actionable use. [PMID: 36637203] For example, one rapid cycle research study used a stepped-care SMART design to treat symptoms of post-traumatic stress disorder in cancer survivors via an app. Other studies featured in this meeting came from survivorship investigators and care delivery settings.
Another example of an effort to encourage survivorship implementation science is reflected in the funding opportunity Pragmatic Trials Across the Cancer Control Continuum (PAR-22-256). As described in the webinar, pragmatic trials are conducted under normal or everyday conditions, balancing external and internal validity, and are intended to support decisions on whether or how an intervention should be delivered. For cancer survivorship research, a pragmatic trial approach that includes broad inclusion criteria with participants from diverse settings and uses available resources is very appealing. The PAR encourages pragmatic trials that study implementation strategies to support uptake and sustainment of interventions across the continuum, including those targeting improvements in survivorship care.
In sum, we see significant advantages in applying implementation science strategies and methodologies to the challenges and questions of survivorship science. For those scientists thinking about how best to address the needs of the many survivors, caregivers, and providers worldwide, an implementation science lens may be advantageous. And for those implementation science investigators who have not yet considered the growing population of people who have a diagnosis of cancer, the Office of Cancer Survivorship website, https://survivorship.cancer.gov/, is a great place to start.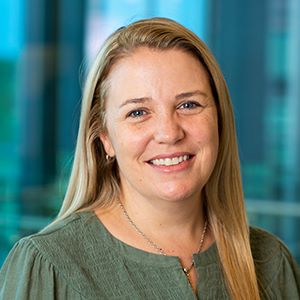 Emily S. Tonorezos, MD, MPH
Emily S. Tonorezos, MD, MPH, serves as director of the Office of Cancer Survivorship, part of the Division of Cancer Control and Population Sciences at the National Cancer Institute (NCI). In this position, Dr. Tonorezos leads NCI's efforts to address the challenges facing cancer survivors and their families -- to prevent or mitigate adverse effects and to improve the health and well-being of cancer survivors from the time of diagnosis through the remainder of their lives.

Dispatches from the Implementation Science Team, is an episodic collection of short form updates, authored by members and friends of the IS team representing a sample of the work being done and topics that our staff are considering for future projects. Topics address some of the advances in implementation science, ongoing issues that affect the conduct of research studies, reflections on fellowships and meetings, as well as new directions for activity from our research and practice communities.
Last Updated
June 22, 2023