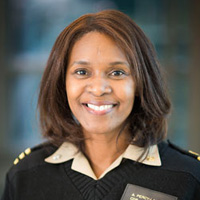 Contact:
Dr. Antoinette Percy-Laurry is a Health Scientist for the Implementation Science Team in the Division of Cancer Control and Population Sciences (DCCPS) at the National Cancer Institute (NCI). She leads efforts to build the capacity of implementation science in global cancer research and supports several trans-NIH and NCI scientific initiatives that address health equity. She holds a secondary appointment in the Surveillance Research Program in DCCPS.
Dr. Percy-Laurry is an NCI representative on the Healthy People initiative and serves as co-chair of the DCCPS International Interest Group. As a member of the Comprehensive Cancer Control National Partnership  

, she co-chairs the Health Behaviors in Cancer Survivors Workgroup and provides evidence-based public health support, representing NCI among 19 national cancer organizations since 2015. Other roles include serving as advisor on State Cancer Profiles and the national Cancer Trends Progress Report, a website summarizing the nation's progress against cancer. She also continues to lead the NCI Cancer Control P.L.A.N.E.T. initiative to support states' use of evidence-based resources.
Dr. Percy-Laurry began her career at NCI as a public health analyst in the NCI SEER program where she managed data quality activities, led efforts in the development of cancer registry technical manuals and served as health disparities expert. In 2008, she was commissioned into the U.S. Public Health Service Commissioned Corps (USPHS) as a Health Services Officer and is current co-chair of the USPHS Epidemiology Collaboration Team.
Dr. Percy-Laurry received her Doctor of Public Health degree from the School of Community Health and Policy at Morgan State University, a Master of Science in Public Health with a specialization in health behavior from the University of Alabama at Birmingham, and a Bachelor of Science in Biology from Oakwood University.
---
Select Publications
---
Interests
Implementation science and health disparities
Evidence-based public health
Global health and cancer screening implementation
Capacity building in implementation science
Cancer surveillance
Last Updated
September 24, 2020