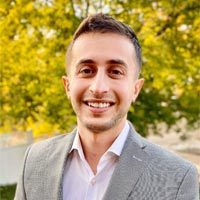 Contact:
Ali Abazeed, MPH, MPP, is a Public Health Advisor in the Division of Cancer Control and Population Sciences' (DCCPS) Office of the Director (OD), with a secondary appointment to the Implementation Science (IS) team. Ali works to support the efforts of the division in the areas of grant portfolios, developing support resources for division staff, and working across programs to advance robust science. Within the Implementation Science team, Ali is working alongside team members to help bridge the gap between science and society, on understanding the myriad factors involved in the implementation of cancer treatments and therapies, and on the health equity dimensions of cancer prevention.
Prior to becoming a Public Health Advisor, Ali was a Presidential Management Fellow (PMF) at NIH/NCI. He rotated through the DCCPS OD, where he helped develop RFA tracking visuals and evaluation metrics for division activities and supported various grant portfolios and the division's brown bag series. Ali also supported the IS team through implementation policy projects, evaluation and portfolio analyses, and the Clinical Trials Coordinating Group. During appropriations season, Ali staffed NCI's Office of Government and Congressional Relations, where he prepared NIH/NCI leadership for Appropriations Hearings, hosted Congressional staffers on NIH visits, and helped lead the drafting of the FY19 Childhood Cancer Research Report to Congress.
Ali capped off the PMF program with a six-month rotation at the Department of Health and Human Services (HHS), splitting time between the Office of the Assistant Secretary for Planning and Evaluation (ASPE) and the Office of Refugee Resettlement (ORR). There, he worked on federal-to-local program coordination, legislation support, strategic planning, and health policy research across social policy portfolios.
Prior to joining the federal government, Ali worked as an advisor at the Detroit Health Department, where he bolstered efforts to reverse water shutoffs, curb infant mortality rates, and revitalize human services following the city's historic bankruptcy. He also developed robust comparative perspectives while working on maternal and child health interventions in the refugee camps of Lebanon.
Ali is a three-time graduate of the University of Michigan, holding a MPH, MPP, and a BS in Neuroscience.
Last Updated
September 24, 2020