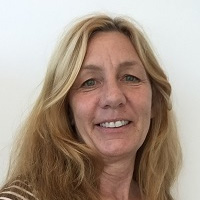 Contact:
Mindy Clyne, M.H.S., C.G.C., is a research assistant for the Implementation Science Team in the Office of the Director in the Division of Cancer Control and Population Sciences (DCCPS) at the National Cancer Institute (NCI). Ms. Clyne collects and assembles existing tools, peer-reviewed literature, and documentation on implementation science in the areas of precision medicine and public health genomics. She also performs portfolio analyses of NIH-funded implementation science grants for initiative and concept development. She assists in identification of genomic-related material for inclusion in the Cancer Control P.L.A.N.E.T. and Research-Tested Intervention programs.
Ms. Clyne was a member of the Knowledge Integration Team in the Epidemiology and Genomics Research Program in DCCPS from 2012 through 2016. Before joining NCI, Ms. Clyne worked for more than 10 years in the Office of Public Health Genomics at the Centers for Disease Control and Prevention. She also worked as a clinical genetic counselor and in the field of forensic DNA identity testing.
Ms. Clyne holds a Master of Health Science in genetic epidemiology from Johns Hopkins University Bloomberg School of Public Health, and a Bachelor in Science with double majors in biology and psychology from the State University at Albany. She is certified by the American Board of Genetic Counseling in genetic counseling.
---
Select Publications
Mensah GA, Yu W, Barfield WL, Clyne M, Engelgau MM, Khoury MJ. HLBS-PopOmics: an online knowledge base to accelerate dissemination and implementation of research advances in population genomics to reduce the burden of heart, lung, blood, and sleep disorders. Genet Med. 2019;21(3):519-524. doi:10.1038/s41436-018-0118-1 .
---
Interests
Implementation science at the intersection with precision medicine
Public health genomics
Knowledge integration and translation