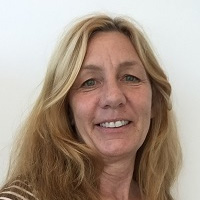 Contact:
Mindy Clyne, MHS, CGC is a research assistant for the Implementation Science Team in the Office of the Director in the Division of Cancer Control and Population Sciences (DCCPS) at the National Cancer Institute (NCI). Ms. Clyne coordinates program management of NCI's Implementation Science in Cancer Control (ISC3) initiative. She also performs portfolio analyses of NIH funded implementation science grants for initiative- and concept-development. She assists in identification of genomic-related material for inclusion in the Cancer Control P.L.A.N.E.T. and Evidence Based Cancer Control Programs (EBCCP).
Ms. Clyne was a member of the Knowledge Integration Team in the Epidemiology and Genomics Research Program (EGRP) in the Division of Cancer Control and Population Sciences (DCCPS) from 2012 through 2016. Prior to working at NCI, Ms. Clyne worked for over 10 years in the Office of Genomics and Precision Public Health (OGPPH) at the Centers for Disease Control and Prevention (CDC). Her earlier career-positions included working as a clinical genetic counselor and in the field of forensic DNA identity testing.
Ms. Clyne holds a Master of Health Science degree in genetic epidemiology from Johns Hopkins University Bloomberg School of Public Health, and a dual Bachelor of Science degree in biology and psychology from the State University at Albany (SUNYA). She is certified by the American Board of Genetic Counseling (ABGC) in genetic counseling.
---
Select Publications
---
Interest
Implementation science at the intersection with precision medicine
Public health genomics
Portfolio analysis
Last Updated
September 24, 2020