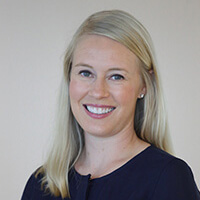 Contact:
Wynne E. Norton, Ph.D., is a Program Director in Implementation Science in the Division of Cancer Control and Population Sciences at the National Cancer Institute. Dr. Norton serves as an NCI scientific contact for the Dissemination and Implementation Research in Health PARs (R01, R21, and R03) and is also involved in four NCI Cancer MoonshotSM Initiatives. She serves as a Project Scientist for the Implementation Science Centers for Cancer Control (ISC3) and contributes implementation science expertise to the Accelerating Colorectal Cancer Screening and Follow-up Through Implementation Science Consortium (ACCSIS), Improving the Management of symPtoms during And following Cancer Treatment Consortium (IMPACT), and the Telehealth Research Centers of Excellence (TRACE). She has served as faculty for the NCI Training Institute for Dissemination and Implementation in Cancer (TIDIRC) and co-chairs the Clinical Trials Coordination Group in the Division of Cancer Control and Population Sciences. Dr. Norton is also a member of the editorial board for the journal Implementation Science.
Dr. Norton's scientific and programmatic interests include de-implementation of ineffective practices, pragmatic trials of implementation strategies, optimization of cancer care delivery, and methodological issues in implementation science. In support of these interests, and in collaboration with NCI colleagues, she served as a co-director for a virtual short course on cluster randomized trial designs in cancer care delivery research (2022) and as a co-chair of a virtual workshop on advancing rapid cycle research to improve cancer-related care (2022). She contributes to enhancing the rigorous conduct of pragmatic implementation trials through lectures and workshops, and supports activities related to use of validated measures and data sharing across trials and research consortia in implementation science.
Prior to joining the NCI in 2015, Dr. Norton was an Assistant Professor at the University of Alabama at Birmingham School of Public Health. Her program of research focused on implementation science in HIV/AIDS, surgical care, and cancer with funding from the NIH, CDC, and the Bill and Melinda Gates Foundation. Dr. Norton was a Fellow in the inaugural class of the NIMH-funded Implementation Research Institute (IRI; 2010) and a Fellow in the OBSSR-funded Mixed Methods Research Training Program (MMRTP; 2015). She received her Ph.D. in social psychology from the University of Connecticut (2009), and her dissertation was funded by an individual National Research Service Award from NIMH. Dr. Norton received her B.A. in Psychology with honors from the College of William and Mary (2004).
---
Select Publications
Norton WE, Loudon K, Chambers DA, Zwarenstein M. Designing provider-focused implementation trials with purpose and intent: Introducing the PRECIS-2-PS tool. Implement Sci. 2021;16(1):7. doi: 1186/s13012-020-01075-y
Norton WE, McCaskill-Stevens W, Chambers DA, Stella PJ, Brawley OW, Kramer BS. De-implementing ineffective and low-value clinical practices: Research and practice opportunities in community oncology settings. JNCI Cancer Spectr. 2021;5(2). doi: 1093/jncics/pkab020
Norton WE, Chambers DA. Unpacking the complexities of de-implementing inappropriate health interventions. Implement Sci. 2020;15(1):2. doi: 1186/s13012-019-0960-9.
Norton WE, Chambers DA, Kramer BS. Conceptualizing de-implementation in cancer care delivery. J Clin Oncol. 2019;37(2):93-96. doi:1200/JCO.18.00589.
Chambers DA, Vinson CA, Norton WE. Advancing the Science of Implementation Across the Cancer Continuum. New York, NY: Oxford University Press; 2018.
Chambers DA, Norton WE. The adaptome: advancing the science of intervention adaptation. Am J Prev Med. 2016;51(4 Suppl 2):S124-31. doi: 1016/j.amepre.2016.05.011.
Interests
Implementation of evidence-based practices in cancer care delivery
De-implementation of ineffective practices across the cancer control continuum
Pragmatic trials in implementation science
Last Updated
November 10, 2022