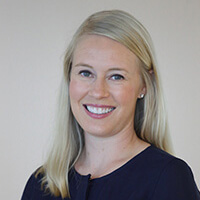 Contact:
Wynne E. Norton, Ph.D., is a Program Director in Implementation Science in the Division of Cancer Control and Population Sciences (DCCPS) at the National Cancer Institute (NCI). Dr. Norton holds a secondary appointment in the Health Systems and Interventions Research Branch in the Healthcare Delivery Research Program in DCCPS and serves as co-chair of the DCCPS Clinical Trials Coordination Group.
Dr. Norton's research interests include de-implementation of ineffective interventions across the cancer control continuum, evidence-based cancer care delivery, and pragmatic clinical trials in implementation science. She is also involved in training programs and serves as faculty and planning committee member for the NIH Training Institute for Dissemination and Implementation Research in Health (TIDIRH) and the NCI Training Institute for Dissemination and Implementation in Cancer (TIDIRC).
Dr. Norton is on the editorial board of the journal Implementation Science. She serves as a track co-lead for the Annual Conference on the Science of Dissemination and Implementation in Health and as an NCI program contact for the Dissemination and Implementation Research in Health funding opportunity announcements. She is also involved in two Cancer MoonshotSM Initiatives: Accelerating Colorectal Cancer Screening and Follow-up Through Implementation Science (ACCSIS
) and Improving the Management of symPtoms during And following Cancer Treatment (IMPACT).
Dr. Norton completed her Ph.D. in social psychology from the University of Connecticut (2009). Her dissertation was funded by an individual National Research Service Award from the National Institute of Mental Health. Dr. Norton received her B.A. in psychology from the College of William and Mary (2004).
---
Select Publications
Chambers DA, Vinson CA, Norton WE. Advancing the Science of Implementation Across the Cancer Continuum. New York, NY: Oxford University Press; 2018.
Norton WE, Chambers DA, Kramer BS. Conceptualizing de-implementation in cancer care delivery. J Clin Oncol. 2019;37(2):93-96. doi:10.1200/JCO.18.00589 .
Norton WE, Zwarenstein M, Czajkowski C, et al. Building internal capacity in pragmatic trials: a workshop for program scientists at the U.S. National Cancer Institute. Trials. 2019;20(779). doi:10.1186/s13063-019-3934-y .
Norton WE, Kennedy A, Chambers DA. Studying de-implementation in health: an analysis of funded research grants. Implement Sci. 2017;12(1):144. doi:10.1186/s13012-017-0655-z .
Chambers DA, Norton WE. The adaptome: advancing the science of intervention adaptation. Am J Prev Med. 2016;51(4):S124-S131. doi:10.1016/j.amepre.2016.05.011 .
---
Interests
De-implementation of ineffective practices across the cancer control continuum
Implementation of evidence-based practices in cancer care delivery
Implementation science training programs
Last Updated
September 24, 2020