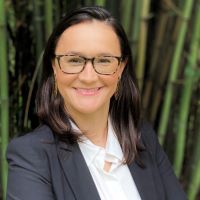 Contact:
Dr. Margarita (Maggie) Correa-Mendez is a Cancer Prevention Fellow with the Implementation Science (IS) Team in the Office of the Director in the Division of Cancer Control and Population Sciences (DCCPS) and the Center for Global Health (CGH) in the Office of the Director at the National Cancer Institute (NCI).
Maggie's research interests focus on reducing inequities in global cancer control through implementation science. She is particularly interested in the implementation context of cancer screening services and the factors that influence the potential for sustainability in Low- and Middle-Income Countries. Her interests also span cancer prevention in Latinx and immigrant communities.
While obtaining her MPH at the Johns Hopkins Bloomberg School of Public Health, Maggie explored barriers and facilitators for cervical cancer screening in the rainforest city of Iquitos, Peru, to inform program implementation. She also obtained a certificate in vaccine science and policy; and helped implement a vaccine education and outreach program at a community-based organization in Baltimore City.
Dr. Correa-Mendez earned her Ph.D. in Biological Sciences from the University of Maryland Baltimore County, where she studied the genetic regulation of cell fate decisions during embryonic development. Prior to moving to the US, she received her master's degree in microbiology and a bachelor's degree in biology from Universidad de Los Andes in her hometown of Bogotá, Colombia.
Last Updated
October 14, 2021