For more than four decades, the Presidential Management Fellows Program (PMF) has been the Federal government's premier leadership development program for advanced degree candidates. The two-year training and leadership development program focuses on developing a cohort of United States government leaders through formal interactive training, challenging work assignments, regular feedback from appointed supervisors, and at least one 4- to 6-month developmental rotation assignment with a federal agency outside of your own. The experience of being a PMF serves as a special opportunity to engage in public service at the highest levels, gain a first-hand glimpse into the inner workings of the federal bureaucracy, and work with talented, multidisciplinary individuals across the federal government, including those with NCI's Implementation Science Team.
After being selected as a PMF finalist, I ventured out to interviews with agencies across the federal government in areas that suited my primary interests: public health and public policy. My interest in the National Cancer Institute surprised and caught me off guard because I believed my prior work would lend itself more towards a heightened focus on social policy. Prior to joining the federal government, I spent time as a Policy Advisor with the City of Detroit Health Department, working on cross-sectoral policy and systems-level actions that directly affect the social determinants of health and advance health equity. I had also worked with the United Nations in the refugee camps of Beirut, Lebanon, alongside Syrian refugee women to advance child and maternal health.
These experiences were underpinned by a conviction that public health is at the heart of public service, and to improve population health, we need to be thoughtful about the myriad ways in which health outcomes are borne. During my interview, I spoke with David Chambers, Deputy Director for Implementation Science in the Division of Cancer Control and Population Science, about the translation of evidence to practice, the integration of research, practice, and policy in service of population health. Nearly three years later, I consider myself lucky to be a colleague of David and the rest of the Implementation Science team.
During my time as a fellow, I felt at home with the lively IS team. There was an excitement about the work that gravitated me in as I learned, listened, and ideated on where I might contribute. In my first few months on the job, I attended the Training Institute for Dissemination and Implementation Research in Cancer (TIDIRC), receiving a thorough grounding in conducting D&I research focused on cancer. I participated in the Comprehensive Cancer Control National Partners (CCCNP) Semi-Annual Meeting in Chicago as a representative of the IS team and learned about the issues national partners are addressing to advance cancer control and helped contribute to the strategic planning of the group. I absorbed much from experiences organizing Research to Reality webinars on tobacco policy, attending Dissemination and Implementation Research in Health (DIRH) Study Sections, collaborating with colleagues on analyses of colorectal cancer screening, and immersing myself in the Cancer Moonshot Initiative. I worked with team members on concept building by conducting informational interviews with national experts to bridge IS and health policy. I began to collaborate with colleagues on papers sharing insights on bridging the gap between science and society through an implementation science policy lens. These experiences as a fellow were vital in laying the foundation of the work I am most excited about leading today with the IS team.
Since transitioning from a fellow to a Public Health Advisor, where I split my time between the IS team and the Division's Office of the Director, and with the rich skills and experiences I gained through the PMF program, I have continued to explore how implementation science may contribute to understanding the translation of scientific evidence to health-related policy in governmental and non-governmental sectors—an area of inquiry that we refer to as policy implementation science (policy IS). The considerable body of implementation research infrequently focuses on policy interventions, and we believe there are several key opportunities that could build the field's strength in policy IS. Through interviews with diverse stakeholders and research agenda development, we are hoping to highlight the important role that policy IS can play in improving population health.
Public health is about what we do collectively, as a society, to assure the conditions for people to lead healthy and dignified lives. I am proud to be part of a team that wears this approach every day, and I look forward to continued learning and engagement in the years to come.
For more about the Presidential Management Fellow Program visit pmf.gov. The application cycle for 2021 fellows opens on September 30, 2020 and closes October 14, 2020.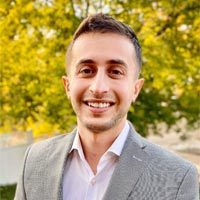 Ali Abazeed, MPH, MPP
Ali Abazeed, MPH, MPP, is a former Public Health Advisor in the Division of Cancer Control and Population Sciences' (DCCPS) Office of the Director (OD), with a secondary appointment to the Implementation Science (IS) team. Ali worked to support the efforts of the division in the areas of grant portfolios, developing support resources for division staff, and working across programs to advance robust science.

Dispatches from the Implementation Science Team, is an episodic collection of short form updates, authored by members and friends of the IS team representing a sample of the work being done and topics that our staff are considering for future projects. Topics address some of the advances in implementation science, ongoing issues that affect the conduct of research studies, reflections on fellowships and meetings, as well as new directions for activity from our research and practice communities.
Last Updated
September 24, 2020