The digital footprint of the IS Team spans four domains including our website, Twitter

, monthly newsletter with accompanying blog, and webinars. On an annual basis, this roughly translates to at least 400 tweets, bimonthly site updates with ongoing resource development, monthly newsletters, and the cozy convening of our fireside webinars. Across different segments of our IS community, our efforts bolster engagement with the 1300 or so Annual Conference

attendees, our 2700+ Twitter followers, 4500+ monthly site visitors, 6000+ newsletter subscribers, and an average 165 monthly webinar attendees all interested in dissemination and implementation (D&I) science—and we're always looking to welcome new folks to the fold.
Working across these areas and supporting our Training Institute has given me insight into growing an online presence, using data and analytics to shape how we meet the needs of the #impsci audience, and understanding the value of an engaged community in creating meaningful content and research, ultimately leading to improved health outcomes. Across the work of the team, I frequently hear the call to engage multiple stakeholders through multiple methods. I'd consider our various communications approaches a strong response to this charge, with the caveat that we're continually working to develop evidence-based practices and improve strategies communicating programmatic efforts. I continue to be aided in my work by the generosity of the community in sharing research and resources, participating on webinars, completing surveys, and donating time to trainings among many activities.
To better understand which of our resources provide the most value, we collect and analyze data to inform content development and determine how best to invest staff time in filling identified gaps. In the instance of our website, adding to the collection of web traffic data, we have been updating our search engine optimization (SEO) keywords, to improve usability and user experience. Not surprisingly, our most trafficked website resources are the Sample Grants in Implementation Science; nearly 25% of our page views come from visitors to this specific resource. While we are not the only ones working with PIs to share such examples—I'd point you in the direction of DCCPS's Behavioral Research Program, Epidemiology and Genomics Research Program, and to NIAID's Sample Applications—ours are D&I specific. Based on the evident demand, we continue to reach out to successful investigators inviting them to share their work, and in 2020 have added several new grants, bringing our total to twelve.
Training in D&I is our next most sought after resource. We in the last year have worked to make our Training Institute for Dissemination and Implementation Research in Cancer (TIDIRC) widely accessible, launching TIDIRC OpenAccess, as well as working with Drs. Rinad Beidas, Cara Lewis, and Byron Powell to capture their Orientation to the Science of Dissemination and Implementation, which when held in-person likely broke local fire code ordinances! We have been honing hybrid online and in-person training models since 2014, and these early opportunities to make video content informative and digestible have equipped us to offer more training slots each year and quickly adapt resources for broader audiences. Our focus on distance training was born out of several collaborations between our team, NCI's Center for Global Health, US Agency for International Development (USAID), US National Academy of Sciences, Engineering, and Medicine (NASEM), and the World Health Organization. In creating trainings that could be implemented globally, we realized there was opportunity to reimagine the delivery of the Training Institute in Dissemination and Implementation Research in Health (TIDIRH) with a similar model and later create TIDIRC. The ability to offer video lectures and accompanying curriculum reduces the burden of in-person training (travel, space, time, etc.), broadens who can participate, gives trainees more time to digest the materials as they developed research projects, and allows the use of in-person time strategically, as those gathered are already primed on the basics and are ready to jump in the IS deep end when convened.
Looking further ahead, we have a spate of project ideas in the works to develop user-driven content and respond to trends we're seeing in our metrics. There is most definitely a need for a next step in D&I training, a TIDIRC 2.0 if you will, and while we have found an effective hybrid delivery model for that training, we have not yet hit on the content areas of focus. I am also working on aggregating data from our many different virtual holdings, including webinars, trainings, and last year's consortium to identify a baseline for virtual participation from implementation science audiences. As much of our work moves entirely online, I am hopeful this baseline will help us measure success in registration, conversion to attendees, and participant retention. It should also help inform how long we can reasonably expect to hold on to audiences across time zones when we all are currently navigating our new virtual territory and competing demands. If you're looking for early results guidance, I'd advise sessions no more than 90 minutes, twice per day, with substantive breaks in between.
From ongoing social listening, we have seen an uptick of interest in long-published materials, both grantee biosketch samples and the Dissemination and Implementation Models in Health Research and Practice

site come to mind, highlighting the need for promotion and a thoughtful dissemination approach to better reach intended audiences. We want to continue to amplify important, existing resources so they can be best used by the community and that others are not using valuable time in reinventing that work. Having conducted an analysis of 5 years of survey feedback from attendees of the Implementation Science Webinar Series, the webinar series formerly known as Advanced Topics in IS, we have identified webinar content through 2021 that captures interest in Cancer Moonshot℠ efforts and a spotlight on IS Theories, Models, and Frameworks. In the coming months, I also expect to re-record all six of the TIDIRC OpenAccess modules, refreshing them and adding new modules from new contributors to these important training efforts. These new videos will likely be streamlined to home in on key concepts and align with our watch retention data (of no more than 20 minutes).
We hope to continue to see you all, albeit virtually, at our webinars (asking invaluable questions), on Twitter sharing resources threads (these few on equity are worth a scroll: @PrajaktaAdsul

and @BaumannAna

) and in contact with us as we all navigate our new realities. As someone who spends a significant amount of time interacting with trainees, coordinating experts, and asking for input from you all, I am always wowed at your flexibility and collegiality and your investment in the science. I recently told TIDIRC 2020 trainees that the collective work and impact of this scientific community, for me, adds a positive mark in the ledger of resilience and change needed in the world. Thank you for making this space so vibrant and we'll continue to do this important work together.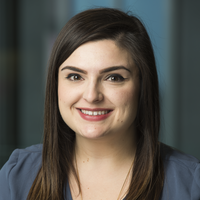 Sarah Bruce Bernal, MA
Sarah Bruce Bernal, MA, is a Program Analyst for the Implementation Science Team in the Office of the Director in the Division of Cancer Control and Population Sciences at the National Cancer Institute. She is the Team communication lead, managing all outreach about NCI and IS Team activities, grantsmanship, resources, and supported research.

Dispatches from the Implementation Science Team, is an episodic collection of short form updates, authored by members and friends of the IS team representing a sample of the work being done and topics that our staff are considering for future projects. Topics address some of the advances in implementation science, ongoing issues that affect the conduct of research studies, reflections on fellowships and meetings, as well as new directions for activity from our research and practice communities.
Last Updated
September 24, 2020