Dear Colleagues,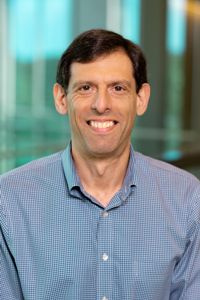 Although the end of a calendar year is a natural transition for most people, the end of 2021 marks a significant turning point for the NCI Division of Cancer Control and Population Sciences (DCCPS). Dr. Robert (Bob) Croyle, our division director since July 2003, officially handed DCCPS leadership over to Dr. Katrina Goddard on October 12, and he now serves as senior advisor to the division director until his official retirement on December 31, 2021. Dr. Goddard is a genetic epidemiologist and biostatistician who previously worked at the Kaiser Permanente Center for Health Research in Portland, Oregon, and Case Western University before that. She now oversees a division that covers a wide range of scientific domains, disciplines, and funding mechanisms – in FY20 alone, DCCPS funded 767 grants valued at more than $509 million along with $88 million in funded contracts. I hope you will join me in warmly welcoming Dr. Goddard to this important position.
At the broader NCI level, President Biden recently appointed seven new members to the National Cancer Advisory Board (NCAB). NCAB plays a critical role in the direction of NCI's research program. We also await President Biden's appointment of a new NIH director. As many of you know, Dr. Francis Collins, the current NIH director, will be concluding his highly successful tenure at the end of this calendar year. Dr. Collins is the longest serving NIH director, having served three US presidents over more than 12 years. Dr. Collins will continue at NIH leading his research laboratory at the National Human Genome Research Institute where he began his NIH career. Additionally, Dr. William (Bill) Riley, NIH associate director for behavioral and social sciences research (BSSR) and director of the Office of BSSR for the past 7 years, will retire at the end of December.
A little closer to home, Dr. Michele Bloch, chief of the BRP Tobacco Control Research Branch, will retire in mid-2022. We have begun the process to identify her successor with the appointment of a search committee headed by deputy associate director Dr. Linda Nebeling, and through a request for letters of interest and CVs by mid-December.
With this cascade of retirements, you will be happy to know that we in BRP make career development a program priority in an effort to fill the scientific workforce pipeline. I'm pleased to welcome several new post-doctoral fellows to our program who are preparing to become the cancer prevention and control leaders of the future – Drs. Jennifer Bowers, Carlos Garrido, Naomi Greene, Katie Heley, Chloe Huelsnitz, Brennan Streck, and Jennifer Zink. We also welcome two new program directors, Drs. Amanda Acevedo and Margaret (Maggie) Mayer.
Our staff continues to play an important role in many COVID-related initiatives. Most recently, Dr. Sylvia Chou has been detailed to the Department of Health and Human Services to serve as the deputy director of research for the COVID-19 Public Education Campaign.
Allow me to highlight a few resources and opportunities you may find helpful. NCI recently signed on to a funding opportunity announcement to establish or enhance an interdisciplinary cancer and aging research infrastructure. This nexus of cancer and aging research is a division and program priority. We also have an interesting learning opportunity targeting T32 fellows. A new paper was recently published that summarizes existing knowledge and evidence gaps discussed in the NCI 2020 Alcohol and Cancer workshop. NCI released Part 2 of the Annual Report to the Nation on the Status of Cancer, which provides a comprehensive review of patient financial burden for cancer care to date. NCI also released its Fiscal Year 2023 Annual Plan and Budget Proposal that outlines new and emerging scientific opportunities to greatly accelerate progress cancer research. Finally, I hope you'll take a moment to read the 2021 DCCPS Overview and Highlights report, a compilation of the remarkable work accomplished by our division over the years, that offers a glimpse of current initiatives and future opportunities.
As a reminder, feel free to manage your BRP newsletter subscription at any time, but we hope you find the information beneficial. If you're on social media, follow us on Twitter at @NCIBehaviors.
Wishing you all a wonderful holiday season and a Happy New Year!
Warmly
Bill Klein
Associate Director
New Funding Opportunities and Notices
Measures and Methods to Advance Research on Minority Health and Health Disparities-Related Constructs (R01 Clinical Trial Not Allowed)
PAR-22-072
NCI Contact: Dr. Janeth Sanchez, Dr. Roxanne Jensen
Posted: November 22, 2021
First receipt date: February 5, 2022
Expires: May 8, 2024
Cancer Center Support Grants (CCSGs) for NCI-Designated Cancer Centers (P30 Clinical Trial Optional)
PAR-21-321
NCI Contact: Office of Cancer Centers
Posted: October 12, 2021
First receipt date: January 25, 2022
Expires: January 8, 2025
Exploratory Grants in Cancer Control (R21 Clinical Trial Optional)
PAR-21-341
NCI Contact: Dr. Mukesh Verma
Posted: October 12, 2021
First receipt date: June 7, 2022
Expires: October 9, 2024
Notice of NCI's Participation in PAR-20-070, Research Infrastructure Development for Interdisciplinary Aging Studies (R21/R33 - Clinical Trial Optional)
NOT-CA-22-002
NCI Contact: Dr. Jennifer Guida
Posted: October 19, 2021
Notice of Intent to Publish a Funding Opportunity Announcement for Tobacco Centers of Regulatory Science (TCORS) for Research Relevant to the Family Smoking Prevention and Tobacco Control Act (U54 Clinical Trial Optional)
NOT-OD-22-017
Contact: TRSP@nih.gov; Dr. Rachel Grana Mayne
Posted: November 3, 2021
Estimated Publication Date of FOA: February 1, 2022
Notice of Special Interest: Dietary, Physical Activity, Sedentary Behavior and Sleep Assessment Methodologies Among Infants and Young Children (Birth to 5 years) through Adults
NOT-CA-21-108
NCI Contact: Dr. Kirsten Herrick
Posted: October 4, 2021
Expires: May 8, 2023
In the News
NIH Common Fund awards grants to address health disparities and advance health equity
NIH awarded eleven grants totaling $58 million over 5 years as part of the NIH Common Fund's Transformative Research to Address Health Disparities and Advance Health Equity initiative. Each award includes an innovative intervention component and focuses on one or more NIH-designated populations that experience health disparities in the US. Through this initiative, NIH expects to expand the base for health disparities research at minority-serving institutions. This Common Fund initiative supports NIH's broader commitment to end structural racism and racial inequities throughout the biomedical research enterprise and the goals of the NIH UNITE initiative. Read the NIH press release.
NIH launches SenNet program to advance research in cellular senescence
The NIH Common Fund recently launched the Cellular Senescence Network (SenNet) program to advance research on the role of senescent cells in the development of age-related diseases, including cancer. NIH is funding $125 million to 16 grants over 5 years contingent on funding availability. NIH issued eight awards for the creation of SenNet Tissue Mapping Centers, seven awards for Technology Development and Application Projects, and one award for a Consortium Organization and Data Coordinating Center. Together, these projects will create a publicly accessible and searchable Atlas of Cellular Senescence. The SenNet program accelerates the ability of biomedical researchers to develop therapeutics that target cellular senescence and improve human health by providing data and resources that would be difficult to achieve through individual efforts. Read the NIH press release.
NCI Cancer Currents Blog features several BRP topics
Recent NCI Cancer Currents Blogs featured several BRP-relevant research topics, with scientific expertise and quotes from staff.
Despite Proven Safety of HPV Vaccine, More Parents Have Concerns - Despite evidence that HPV vaccines are safe and effective, a new study shows that while the number of parents who are hesitant to have their child vaccinated is decreasing, a larger percentage of the remaining vaccine hesitant parents are citing concerns about their safety. Researchers advise efforts are needed to counter this trend and improve vaccination rates.
Quitting Smoking Improves Survival in People with Lung Cancer - Quitting smoking after a diagnosis of early-stage lung cancer may help people live longer, a new study finds. The study, which included more than 500 patients, also found quitting smoking delayed cancer reoccurrence and disease progression.
Addressing the Challenges of Cancer Misinformation on Social Media - Misinformation about cancer is abundant on social media and includes stories that describe miraculous results from unproven and/or potentially harmful treatments. Researchers are studying misinformation and its impact on people with cancer.
Physical Activity May Lessen the Effects of Chemobrain, Study Finds - For women undergoing chemotherapy for breast cancer, meeting the national physical activity guidelines may help alleviate cognitive issues, a new study suggests. The benefits may be even greater for patients who were physically active before treatment.
Staffing News
BRP welcomes new fellows
Acevedo and Mayer transition to BRP program directors
Chou detailed to HHS
Scientific Advances
Gapstur SM, Bandera EV, Jernigan DH, LoConte NK, Southwell BG, Vasiliou V, Brewster AM, Naimi TS, Scherr CL, Shield KD. Alcohol and cancer: existing knowledge and evidence gaps across the cancer continuum. Cancer Epidemiol Biomarkers Prev. 2021 Nov 2:cebp.0934.2021.
Korn AR, Blake KD, D'Angelo H, Reedy J, Oh A. Prevalence and correlates of US adult public opinion on restricting junk food advertising to children on social media: 2020 Health Information National Trends Survey. Public Health Nutr. 2021 Nov;24(16):5534-5538.
Dilawari A, Rentscher KE, Zhai W, Zhou X, Ahles TA, Ahn J, Bethea TN, Carroll JE, Cohen HJ, Graham DA, Jim HSL, McDonald B, Nakamura ZM, Patel SK, Root JC, Small BJ, Saykin AJ, Tometich D, Van Dyk K, Mandelblatt JS; Thinking and living with cancer study. Medical care disruptions during the first six months of the COVID-19 pandemic: the experience of older breast cancer survivors. Breast Cancer Res Treat. 2021 Nov;190(2):287-293.
Budenz A, Grana R. Cigarette Brand use and sexual orientation: Intersections with gender and race or ethnicity. Prev Chronic Dis. 2021 Oct 28;18:E94.
Seidenberg AB, Wiseman KP, Eck RH, Blake KD, Platter HN, Klein WMP. Awareness of alcohol as a carcinogen and support for alcohol control policies. Am J Prev Med. 2021 Oct 12:S0749-3797(21)00430-X.
Berg CJ, Abroms LC, Levine H, Romm KF, Khayat A, Wysota CN, Duan Z, Bar-Zeev Y. IQOS marketing in the US: the need to study the impact of FDA modified exposure authorization, marketing Distribution channels, and potential targeting of consumers. Int J Environ Res Public Health. 2021 Oct 8;18(19):10551.
Thomas R, Kenfield SA, Yanagisawa Y, Newton RU. Why exercise has a crucial role in cancer prevention, risk reduction and improved outcomes. Br Med Bull. 2021 Sep 10;139(1):100-119.
Wiseman KP, Seidenberg AB, Klein WMP. Clinician role in patient awareness regarding carcinogenic nature of alcohol consumption in the US: a nationally representative survey. J Gen Intern Med. 2021 Sep 10.
Gaynor AM, Ahles TA, Ryan E, Schofield E, Li Y, Patel SK, McNeal K, Traina T, Root JC. Initial encoding deficits with intact memory retention in older long- term breast cancer survivors. J Cancer Surviv. 2021 Aug 6. Epub ahead of print.
Career and Training Opportunities
Post-Doctoral Fellowship in Tobacco Control Research Branch
TCRB invites applications from qualified candidates for a Cancer Research Training Award post-doctoral fellowship position. The fellow will work as part of a multidisciplinary team of federal staff, contractors, and external scientists who plan and implement tobacco control research activities. Day-to-day activities may include performing data analyses with large population health data sets, primarily the Tobacco Use Supplement to the Current Population Survey (TUS-CPS); contributing to manuscripts for peer-reviewed journal publications; conducting literature reviews or environmental scans; writing scientific content for federal staff and other audiences; participating in TUS-CPS meetings and other team meetings; and attending seminars and other training opportunities. Applicants must have a doctoral degree (or be a Ph.D. candidate) in a relevant discipline (e.g., epidemiology, public health, health policy, health communication, psychology, biostatistics) and a strong interest in tobacco control and behavioral science research. Read the position description.
Post-Doctoral Fellowship in Health Equity and Basic Behavioral and Psychological Sciences Research
BBPSB invites applications from qualified candidates for a Cancer Research Training Award post-doctoral fellowship position. BBPSB seeks to expand the diversity of study populations to further understand mechanisms and patterns of cancer-relevant behaviors and decisions and generate knowledge of how living systems interact with - and are influenced by - experiences at the individual, family, social, organizational, and environmental levels. Such knowledge can inform the development of evidence-based solutions to health differences primarily driven by behavioral, social, economic, and ecological factors. As a member of BBSPB, the fellow will apply a health equity lens to the research domains cultivated by the branch. Specific duties may include conducting literature reviews and synthesizing scientific content; collaborating on web- or laboratory-based surveys and experiments; performing data analyses or meta-analyses for scientific manuscripts, reports, and presentations; analyzing the research grants portfolio; leading and/or assisting with workshops, meetings, and webinars; and writing manuscripts for peer reviewed journals. Candidates trained in health equity research with a biopsychosocial background are encouraged to apply. Read the position description.
View other fellowship opportunities.
Resources
Protocol papers on smoking cessation interventions among people living with HIV now available
A special collection of five protocol papers published in Contemporary Clinical Trials describes intervention approaches to promote smoking cessation among people living with HIV. The interventions are funded in response to the request for applications (RFAs) Improving Smoking Cessation Interventions among People Living with HIV.
Learn more about the grants and access the papers.
Smokefree.gov launches teen resource on vaping
The Smokefree.gov Initiative launched the Vaping Reality Check, a new resource for teens who have concerns or questions about their vape use. The interactive tool helps teens assess their level of nicotine dependence and encourages self-reflection on negative consequences of vaping. Teens can choose cessation actions to take that align with their readiness level. Learn more about resources to help teens quit vaping.
Special Edition of Translational Behavioral Medicine: Cancer Prevention and Control for a New Decade
The newest edition of Translational Behavioral Medicine: Practice, Policy, Research, "Cancer Prevention and Control for a New Decade," features 12 articles that explore the current state of scientific progress in areas of cancer population sciences research. The special edition was developed as a result of collaborations among researchers from Fox Chase Cancer Center, The Feinstein Institutes for Medical Research, and DCCPS. The contributions in this special issue are divided into five subsections covering important topics such as impacts on population health, behavioral change strategies, and new methods for moving forward. Read the special issue.
2021 DCCPS Overview and Highlights: Guiding the Future of Cancer Control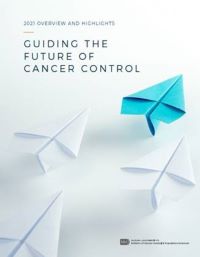 This year's special edition of Overview and Highlights presents a broad summary of our division's initiatives and accomplishments. In this year, marked by a transition in DCCPS leadership, we reflect on the division's evolution and provide a wide view of current initiatives and opportunities across the cancer control continuum. The report describes how we stimulate and build the science, gives top examples of progress in each of our program areas over the last two decades, and offers plans for the future.
View and/or download the report.
Annual Report to the Nation on the Status of Cancer, Part 2
The most comprehensive examination of patient economic burden for cancer care to date was released in part two of the Annual Report to the Nation on the Status of Cancer. The report provides a national perspective on cancer costs and information on out-of-pocket spending for patients based on cancer site, stage of disease at diagnosis, and phase of care. It found the patient economic burden associated with cancer care in the US in 2019 totaled $21.09 billion. This included patient out-of-pocket costs of $16.22 billion and patient time costs of $4.87 billion. The report was jointly issued by NCI, the Centers for Disease Control and Prevention, the American Cancer Society, and the North American Association of Central Cancer Registries. Get more information about the annual report.
NCI Cancer Control P.L.A.N.E.T. portal retires
For nearly 20 years, NCI's Cancer Control P.L.A.N.E.T. website has been a go-to resource for cancer control planners, health educators, program staff, and researchers to access data and resources to design, implement, and evaluate evidence-based cancer control programs. Although the portal is now retired, all the tools and resources once curated there are still accessible:
Awards and Recognitions
Events
January 12, 2022 – Deep Dive into Available Data Resources for Specific Cancer Prevention and Control Topics
This webinar is the last of a three-part series for T32 (Ruth L. Kirschstein Institutional National Research Service Award) trainees in cancer prevention and control. This session will be a deep dive into three key resources for research related to a range of issues in cancer survivorship. The session will cover reasons for choosing these specific resources, key strategies for using them, challenges encountered, associated analytic issues, and opportunities for innovation. Register for the webinar.
Last Updated
May 12, 2022