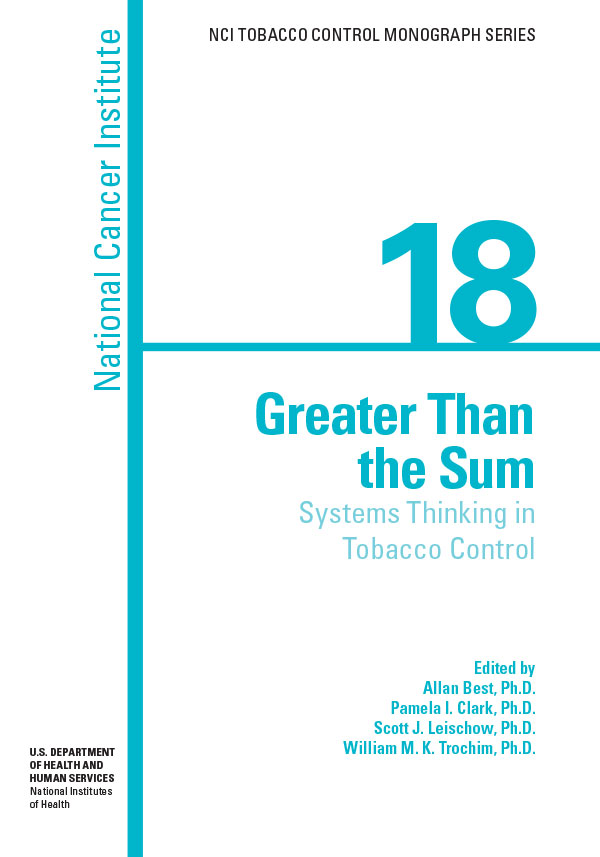 Reviews key lessons from the first two years of the National Cancer Institute's Initiative on the Study and Implementation of Systems (ISIS) project, with a focus on the four key systems approaches to tobacco control: organizing, dynamics, networks, and knowledge.
On This Page
Supplementary Materials
Ordering Information
The tobacco monographs can be ordered by sending an email to nci@gpo.gov. Please include the title and/or NCI Publication Number and the requested quantity.*
* Both Executive Summary (Publication ID: T056) and full reports (Publication ID: T071) available.
Suggested Citation
National Cancer Institute. Greater Than the Sum: Systems Thinking in Tobacco Control. Tobacco Control Monograph No. 18. Bethesda, MD: U.S. Department of Health and Human Services, National Institutes of Health, National Cancer Institute. NIH Pub. No. 06-6085, April 2007.
View Individual Chapters
Chapters and key topics covered within each chapter are listed below. Chapters generally include an introductory section, details on methodology, a chapter summary, research needs, and a reference list.
Last Updated
September 24, 2020