There is a bidirectional relationship between cancer and aging.
Aging is a risk factor for adult cancers, and emerging evidence suggests that cancers and some cancer treatments might accelerate aging. However, the mechanisms by which aging-associated processes contribute to cancer risk and to cancer and treatment outcomes are largely unknown.
NCI seeks to develop new ways to prevent, detect, diagnose, and treat cancer by understanding aging. NCI's investments in cancer and aging research foster discoveries and collaborations to accelerate the development of targeted prevention, control, and treatment approaches to ensure all patients, regardless of age, have equitable access to—and benefit from—safe and effective treatments and other cancer research advances.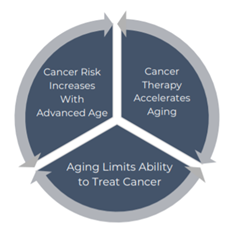 It's clear that the challenges in understanding the relationship between aging and cancer are daunting. But significant progress has been and continues to be made.
NCI Director Dr. Norman E. Sharpless, Cancer Currents Blog
Trans-NCI Priorities
NCI supports a range of research, from understanding aging biology as a driver of cancer biology to eliminating population-level cancer disparities due to chronological, functional, or biological age. The NCI Annual Plan & Budget Proposal for Fiscal Year 2020 stated that the "greatest risk factor for cancer is advancing age." It calls for "support for research on the basic mechanisms of aging and cancer [to] enhance our understanding of both subjects and enable the development of new strategies for cancer prevention and treatment, as well as the optimal delivery of cancer interventions based on a person's age."
The NCI Division of Cancer Biology (DCB) supports research in all areas of basic cancer biology, including those that expand current understanding of how the mechanisms responsible for fundamental cell processes are deregulated and result in cell transformation and progression to metastasis. Basic cancer research builds scientific knowledge of cancer as a disease and provides the building blocks that ultimately give rise to new clinical trials and cancer treatments.
DCB is, therefore, interested in aging-associated molecular changes in the fundamental cellular processes that contribute to cancer susceptibility, progression, and metastasis. 
Areas of interest for cancer and aging research infrastructure development include, but are not limited to
understanding the role of aging in genomic instability; epigenetic deregulation and cancer
the role of aging in deregulation of proteostasis, nutrient-sensing, mitochondrial dysfunction, oxidative stress and intercellular communication in cancer development and progression
understanding the mechanisms responsible for stem cell exhaustion and cellular senescence in cancer
infrastructure for unveiling, visualizing, and analyzing age-associated molecular, cellular, and tissue-based differences and drivers in cancer development
infrastructure enabling integrated analyses of aging and cancer data
the use of aging-relevant model systems to understand basic mechanisms of cancer biology, sex differences, and the role of gender in cancer and aging
the role of aging in response to cancer therapy and resistance
mapping age-related changes as part of Human Tumor Atlas Network (HTAN) and the influences of the aging nervous system in cancer
Selected Active NCI Grants
Project Title
Project Number
Principal Investigator(s)
Organization
Impact of Aging and Clonal Hematopoiesis on Epigenetic Herogeneity, Evolvability, and Leukemogenesis
1U01CA271830-01
Sheng, Li

Degregori, James
Jackson Laboratory
Progenitor Cell States Contributing to Aging and Lung Cancer
1U01CA267827-01
Hagis, Marcia

Kim, Carla
Harvard Medical School
Aging-Associated Mammary Cancer-Initiating Cells
1U01CA263684-01
Sun, Luzhe
University of Texas Health Science Center
Selected Initiatives
Cellular Senescence Network (SenNet)
The Cellular Senescence Network (SenNet) program advances research on the role of senescent cells in the development of age-related diseases including cancer. The program, established through the NIH Common Fund, is funding $125 million to 16 grants over 5 years contingent on funding availability. NIH issued eight awards for the creation of SenNet Tissue Mapping Centers, seven awards for Technology Development and Application Projects, and one award for a Consortium Organization and Data Coordinating Center. Together, these projects will create a publicly accessible and searchable Atlas of Cellular Senescence.
The Onco-Aging Consortium is a joint NCI and NIA program to support research addressing key questions regarding how hallmarks of aging lead to impaired cellular activities and alterations in the microenvironment that contribute to the development and outgrowth of cancer-initiating cells (CICs) (see RFA-20-040).
The OAC supports interdisciplinary teams that combine aging and cancer expertise with approaches to decipher the biological pathways during aging that contribute to cancer initiation. This diverse consortium features multiple cancer models and hallmarks of cancer and aging.
Division Contacts: Chamelli Jhappan, Ph.D., Konstantin Salnikow, Ph.D.
Previous Funding Opportunities
Funding Opportunity Published
Partnership for Aging and Cancer Research (PAR-18-552)
Led by:
Dr. Chamelli Jhappan (NCI)
Dr. Felipe Sierra (NIA)
The NCI Division of Cancer Control and Population Sciences (DCCPS) aims to reduce cancer risk, incidence, and deaths from cancer as well as enhance the quality of life for cancer survivors. The division conducts and supports an integrated program of the highest quality genetic, epidemiological, behavioral, social, applied, healthcare delivery, and surveillance cancer research.
As a dynamic interplay of biological, physiological, environmental, psychological, behavioral, and social processes, aging can be considered a cancer prevention and control hallmark.
Areas of interest for cancer and aging research infrastructure development include, but are not limited to
identification or development of aging measures and biomarkers to enable the investigation of aging trajectories among cancer survivors
investigation of biological, behavioral, and psychosocial and other aging-relevant factors (e.g., age-related changes in body composition, energy balance, and health behaviors) associated with cancer risk and outcomes
development and testing of interventions to prevent, lessen, or rehabilitate aging-related consequences of cancer treatment
leveraging existing resources to address cancer survivorship and aging hypotheses
development and use of age/aging relevant and clinically-informative animal models of human cancers and treatment-related late effects
examining use of patient-reported outcomes to stratify risk, support decision-making, and optimize cancer and aging outcomes in survivors
inclusion of older adults in observational and intervention studies of cancer survivorship
Selected Active NCI Grants
Project Title
Project Number
Principal Investigator(s)
Organization
Accelerated Biological Aging in Breast Cancer and Risk for Cognitive and Physical Complaints
1R01CA237535-01A1
Carroll, Judith

Bower, Julienne
University of California Los Angeles
Life and Longevity After Cancer (LILAC): The Womens Health Initiative Cancer Survivor Cohort
U01CA173642-08
Anderson, Garnet
Fred Hutchinson Cancer Research Center
Characterizing the Risk of Chemotherapy Side Effects Based on Epigenetic Age and Modification by Resistance Training Intervention
R37CA263064-01
Binder, Alexandra
University of Hawaii at Manoa
Selected Initiatives
Supplemental funding to NCI-Designated Cancer Centers – DCCPS provided supplemental funding to NCI-designated Cancer Centers to support the development of a sustainable interdisciplinary research infrastructure to address critical cancer and aging research questions or catchment area needs.
Perspectives on Cancer and Aging: The Arti Hurria Memorial Webinar Series – NCI sponsors this webinar series to honor the late Arti Hurria, M.D., a pioneer in the fields of geriatrics and oncology, an NCI grantee, and servant-based leader, collaborator, and mentor. The series aims to build a research community at the intersection of aging and cancer and provide a platform to disseminate cancer and aging research.
Cancer and Accelerating Aging: Advancing Research for Healthier Survivors – The NCI, NIA, and representatives from other US cancer research institutions seek to identify cancer and aging research needs, encourage integration of aging-related endpoints into cancer studies, and build a transdisciplinary research portfolio for the healthy aging of cancer survivors.
Division Contacts: Lisa Gallicchio, Ph.D., Paige Green, Ph.D., M.P.H., F.A.B.M.R., Jennifer Guida, Ph.D., M.P.H.
Previous Funding Opportunities
Notice of Special Interest Published
Alzheimer's Disease and Its Related Dementias (AD/ADRD)-Focused Administrative Supplements for NIH Grants that Are Not Focused on Alzheimer's Disease (NOT-AG-18-008)
Multiple reissuances:
Led by:
The NCI Division of Cancer Prevention (DCP) leads, supports, and promotes rigorous, innovative research and training to prevent cancer and its consequences to improve the health of all people.
Areas of interest for cancer and aging research infrastructure development include, but are not limited to
development of animal models of cancer prevention; intervention studies, such as nutrition, cancer prevention interventions, vaccines, surgery and behavioral modifications
development of biomarkers for early detection and new screening technologies
development of immune-based approaches for the prevention of cancer
clinical trials focused on treatment tolerability, cancer and treatment related symptoms and toxicities in older adults including translational endpoints to enhance the mechanistic understanding of toxicities in this population
longitudinal studies to understand the trajectory and biological contributions of commonly occurring symptomatic toxicities (e.g., chemotherapy induced peripheral neuropathy, chemotherapy related cognitive impairment, and fatigue)
testing of interventions to increase enrollment of older adults to NCI-sponsored clinical trials including interventions that target minority older adults, address implicit bias of older adult participation in clinical trials, and consider the older adult's perspective on participation in clinical trials, particularly those involving placebo or tissue collection
use of the geriatric assessment and other determinants of fitness in clinical trials to understand patient factors including comorbidities that contribute to treatment tolerability, guide supportive care, and predict toxicity
implementation of investigator training to conduct frailty assessment and educational programs to address clinical bias
the development of strategies tailored to older adults that address various modes of patient reporting of toxicities in clinical research including electronic reporting
Selected Active NCI Grants
| | | | |
| --- | --- | --- | --- |
| Project Title | Project Number | Principal Investigator(s) | Organization |
| Gaining Metabolic Insight in Older Men Undergoing Androgen Deprivation Therapy for Prostate Cancer | 5R01CA226211-03 | Basaria, Shehzad | Brigham and Women's Hospital |
| Understanding Treatment Tolerability in Older Patients with Cancer | 5U01CA233167-04 | Mohile, Supriya | University of Rochester |
| Dignity Therapy RCT Led by Nurses or Chaplains for Elderly Cancer Outpatients | 5R01CA200867-05 | Wilkie, Diana | University of Florida |
Division Contacts: Gabriela Riscuta, M.D., C.N.S., Diane St. Germain, R.N., M.S., C.R.N.P., Matthew Young, Ph.D.
The NCI Division of Cancer Treatment and Diagnosis (DCTD) supports a portfolio of research that focuses on the discovery and development of cancer therapies and biomarkers for cancer diagnosis to improve survival and healthspan of cancer patients. 
Areas of interest for research infrastructure development include, but are not limited to
identification of novel, age-related cancer targets that promote cancer progression, metastasis, or treatment response
development of novel drugs or drug combinations that improve therapeutic outcomes in age-specific subgroups, particularly that may improve long-term pediatric cancer survivorship
discovery and development of biomarkers to facilitate personalized cancer therapy
prediction of treatment toxicity and consideration of patient heterogeneity in treatment optimization for older adults
immunotherapy-based combinations for younger and older cancer patients
developments that advance proteome and proteogenome science and elucidate the functional biology of tumors across the lifespan through large-scale multi-omic characterizations.
Selected Active NCI Grants
| | | | |
| --- | --- | --- | --- |
| Project Title | Project Number | Principal Investigator(s) | Organization |
| Revisiting Prior Cancer as an Exclusion Criterion for Cancer Clinical Trials | 1R01CA229834-01 | Pruitt, Sandi Leigh | UT Southwestern Medical Center |
| The Impact of Aging on Prostate Cancer with Age-Related Disruption of Th17/Treg Axis | 5R01CA255802-02 | Zhang, Quiyang | Tulane University of Louisiana |
| Targeting Lipid Metabolism in the Tumor Microenvironment | 5P01CA114046-13 | Weeraratna, Ashani | Wistar Institute |
Division Contacts: Weiwei Chen, Ph.D., Richard Little, M.D., Ana Robles, Ph.D.
The NCI Center to Reduce Cancer Health Disparities (CRCHD) leads the NCI efforts to reduce the unequal burden of cancer in our society. Cancer disparities by race/ethnicity also affect other population groups, including those defined by age, disability, sexual gender minority, geographic location, income, and education.
CRCHD is committed to advanced understanding of the multifactorial causes of cancer disparities, including biological and nonbiological bases of cancer incidence and progression in aging, and by facilitating new and ongoing linkages between research, training, and outreach in cancer and aging.
Areas of research infrastructure development include, but are not limited to
basic, clinical, translational, and population-based research to address cancer health disparities and aging
training students and investigators from diverse backgrounds to address cancer and aging research
building regional networks to foster collaboration, enhance disparities research, and disseminate culturally appropriate, evidence-based information about cancer and aging to underserved communities.
Selected Active NCI Grants
Project Title
Project Number
Principal Investigator(s)
Organization
Case Comprehensive Cancer Center (Case CCC) Cancer Health Disparities SPORE Planning Grant
3P20CA233216-03S1
Berger, Nathan

Li, Li
Case Western Reserve University
The Role of WNT10B and HMGA2 in Lung Metastasis in Triple Negative Breast Cancer
7R21CA179735-02
Miranda-Carboni, Gustavo Adolfo

Miranda, Susan
University of Tennessee Health Science Center
Division Contacts: Nelson Aguila, D.V.M., Anil Wali, Ph.D.
Last Updated
July 20, 2023