The Transdisciplinary Research on Energetics and Cancer Centers initiative fosters collaboration across multiple disciplines and encompasses projects that cover the biology, genomics, and genetics of energy balance to behavioral, sociocultural, and environmental influences upon nutrition, physical activity, weight, energetics, and cancer risk. It provides training opportunities for new and established scientists who can carry out integrative research on energetics and energy balance. The TREC initiative complements NCI's energy balance research endeavors and efforts of the NIH Obesity Task Force.
TREC Training Workshop
June 20-25, 2021
This five-day, in residence training workshop is designed for early career investigators (i.e., junior faculty and postdocs) who are interested in transdisciplinary (TD) energetics and cancer research.
The annual workshop, now in its fifth year, places emphasis on developing and applying TD competencies focused on energetics (i.e., obesity, diet and exercise) and cancer. Faculty span an array of professional disciplines, from basic scientists to clinicians to behavioral and population scientists. Formal didactic learning is integrated with one-on-one dialog and small group discussions to enable fellows to learn from each other, from faculty, and to develop a TD network.
The Workshop builds upon the NCI TREC Initiative and covers topics across the cancer control continuum. The course will be held June 20-25, 2021 at Water's Edge Resort, Westbrook, CT, U.S.A.* Costs will be covered (excluding ground transportation).
A notification of Intent to apply is due no later than December 15, 2020.
The full application is due no later than January 15, 2021.
For more details and to apply, visit TRECTraining.yale.edu.

*Travel contingent on safety allowances due to the COVID-19 pandemic. If necessary, we will conduct the 2021 Workshop virtually via Zoom, June 20-25, 2021. Decision will be made by April 1, 2021.
The 2011–2016 Transdisciplinary Research on Energetics and Cancer (TREC) Initiative: Rationale and Design. Ruth E. Patterson, Graham A. Colditz, Frank B. Hu, Kathryn H. Schmitz, et al,. Cancer Causes Control (2013) 24:695–704.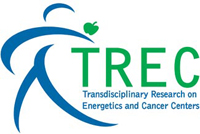 2005 – 2010 NCI-funded TREC Research Centers
Last Updated
October 28, 2020