The Transdisciplinary Research on Energetics and Cancer Centers initiative fosters collaboration across multiple disciplines and encompasses projects that cover the biology, genomics, and genetics of energy balance to behavioral, sociocultural, and environmental influences upon nutrition, physical activity, weight, energetics, and cancer risk. It provides training opportunities for new and established scientists who can carry out integrative research on energetics and energy balance. The TREC initiative complements NCI's energy balance research endeavors and efforts of the NIH Obesity Task Force.
TREC Training Workshop
June 24-28, 2024
This five-day, in residence training workshop is designed for early career investigators (i.e., junior faculty and postdocs) who are interested in transdisciplinary (TD) and translational (TL) energetics and cancer research.
The annual workshop, now in its eighth year, places emphasis on developing and applying TD competencies focused on energetics (i.e., obesity, diet and exercise) and cancer.  Faculty span an array of professional disciplines, from basic scientists to clinicians to behavioral and population scientists. Formal didactic learning is integrated with one-on-one dialog and small group discussions to enable fellows to learn from each other, from faculty, and to develop a TD and TL network.
The Workshop builds upon the NCI TREC Initiative and covers topics across the cancer control continuum. The course will be held June 24-28, 2024 at Water's Edge Resort, Westbrook, CT, U.S.A. Costs will be covered.
Notification of Intent to apply due: December 15, 2023
Full application due: January 15, 2024
For more detail visit TRECTraining.yale.edu.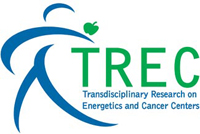 2011 – 2016 NCI-funded TREC Research Centers
Principal Investigator
Dr. Ruth Patterson
The TREC Research Center at the University of California, San Diego focuses on mechanisms linking obesity with breast cancer risk and conducts studies investigating obesity and lifestyle factors related to insulin resistance and inflammation using mouse models, clinical trials, and wireless and networked technologies in the community.
Location
Philadelphia, PA
Principal Investigator
Dr. Kathryn Schmitz
The University of Pennsylvania TREC Research Center focuses on the association between energy balance and breast cancer recurrence and persistent adverse treatments effects and explores the impact of exercise and weight control interventions in cancer survivors through cost effectiveness analysis.
Principal Investigator
Dr. Frank Hu
The Harvard TREC Research Center focuses on biological mechanisms linking obesity and cancer throughout the lifespan and at multiple levels, and translating this knowledge into actionable behavioral interventions targeting children, minorities, and cancer survivors.
Principal Investigator
Dr. Graham Colditz
The TREC Research Center at Washington University in St. Louis uses multilevel and multigenerational approaches to investigate mechanisms by which preconception diet, nutrition and built environment policies impact inactivity and how physical activity and energy balance influence body weight and carcinogenesis across the lifespan.
Principal Investigator
Dr. Mark Thornquist
The TREC Coordination Center at Fred Hutchinson Cancer Research Center integrates efforts across the network of individual TREC Research Centers and facilitates transdisciplinary research by supporting communication, scientific collaboration, logistical infrastructure for data management and bioinformatics, results dissemination, training, and evaluation.
2005 – 2010 NCI-funded TREC Research Centers
Publications
Orgel E, Framson C, Buxton R, et al. Caloric and nutrient restriction to augment chemotherapy efficacy for acute lymphoblastic leukemia: the IDEAL trial. Blood Adv. 2021 Apr 13;5(7):1853-1861. doi: 10.1182/bloodadvances.2020004018
Irwin ML, Lowry D, Neuhouser ML, et al. Transdisciplinary Research in Energetics and Cancer early career investigator training program: first year results. Transl Behav Med. 2021 Mar 16;11(2):549-562. doi: 10.1093/tbm/ibaa009
Schmitz KH, Gehlert S, Patterson RE, et al. TREC to WHERE? Transdisciplinary Research on Energetics and Cancer. Clin Cancer Res. 2016 Apr 1;22(7):1565-71. doi: 10.1158/1078-0432.CCR-14-1214
Patterson RE, Colditz GA, Hu FB, et al. The 2011-2016 Transdisciplinary Research on Energetics and Cancer (TREC) initiative: rationale and design. Cancer Causes Control. 2013 Apr;24(4):695-704. doi: 10.1007/s10552-013-0150-z
Last Updated
November 02, 2023