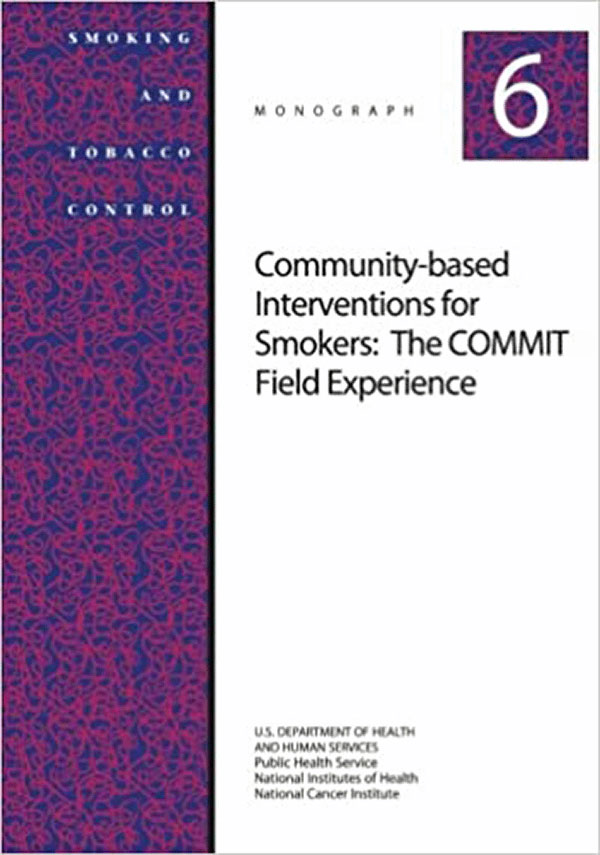 Describes the Community Intervention Trial for Smoking Cessation (COMMIT) project which consisted of broadly structured community-based interventions that provided persistent cessation messaging. Special attention was paid to community mobilization, including involving health care providers, worksites, diverse communities, schools, and youth in tobacco control efforts.
Suggested Citation
National Cancer Institute. Community-based Interventions for Smokers: The COMMIT Field Experience. Tobacco Control Monograph No. 6. Bethesda, MD: U.S. Department of Health and Human Services, National Institutes of Health, National Cancer Institute. NIH Pub. No. 95-4028, August 1995.
View Individual Chapters
Chapters and key topics covered within each chapter are listed below. Chapters generally include an introductory section, details on methodology, a chapter summary, research needs, and a reference list.
Dedication (PDF, 32 KB)
Foreword (PDF, 64 KB)
Acknowledgments (PDF, 160 KB)
Contents (PDF, 128 KB)
Chapter 1. Smoking Control and the COMMIT Experience Summary and Overview (PDF, 160 KB)

Trends in the Magnitude of Smoking as a Public Health Problem
Activities of the Tobacco Industry
COMMIT and the Evolution of the National Cancer Institute's Smoking and Tobacco Control Program
Purpose of This Monograph
COMMIT Intervention Materials

Chapter 2. Background for a Comprehensive Community-Based Trial for Smoking Control (PDF, 96 KB)

Individual Orientations to Tobacco Control
Public Health Model of Tobacco Control
Past Community-Based Studies of Tobacco Control
Lessons From Previous Studies

Chapter 3. Community Intervention Trial for Smoking Cessation: Description and Evaluation Plan (PDF, 128 KB)

Trial Communities
Trial Timeline
Overall Evaluation Plan
Outcome Evaluation
Impact Evaluation
Process Evaluation
Economic Evaluation

Chapter 4. Community Intervention Trial for Smoking Cessation: Development of the Intervention (PDF, 224 KB)

Introduction
Intervention Goals and Objectives
Intervention Areas
Special Considerations of the Intervention Design

Chapter 5. Mobilizing the COMMIT Communities for Smoking Control (PDF, 256 KB)

Adaptations for Research Purposes
Steps in Mobilizing Communities
Community Analysis
Mobilization Experiences Across Communities
What Could Have Been Done Differently?

Chapter 6. Activities To Involve the Smoking Public in Tobacco Control in COMMIT (PDF, 256 KB)

Rationale and Process Objectives
Campaigns
Magnet Events
Media Advocacy
What Could Have Been Done Differently?

Chapter 7. Changing Public Policy Around Tobacco Control in the COMMIT Communities (PDF, 192 KB)

Rationale
Changing Policies
Challenges to Policy Changes
What Could Have Been Done Differently?
Generic Lessons

Chapter 8. Activities To Enhance the Use of Cessation Resources in COMMIT (PDF, 160 KB)

Cessation Resources Activities and Process Objectives
Developing and Distributing a Cessation Resources Guide
Recruiting Heavy Smokers Into a Network
Distributing a Semiannual Newsletter
Special Recruitment and Intervention Activities

Chapter 9. Activities To Promote Health Care Providers as Participants in Community-Based Tobacco Control (PDF, 192 KB)

Rationale
Challenges and Barriers
Goals and Process Objectives for Health Care Providers
Intervention Activities
What Happened: Successful Components and Challenges
The Future

Chapter 10. Promoting Community Tobacco Control Through Worksites (PDF, 224 KB)

Goals, Activities, and Process Objectives
Planning Worksite Interventions
Intervention Activities and Their Implementation
Delivering the Intervention to the Community
Lessons Learned

Chapter 11. Involving Diverse Community Organizations in Tobacco Control Activities (PDF, 320 KB)

The Rationale for Involving Community Organizations
Other Organizations in COMMIT
Successful Efforts With Community Organizations
Challenges Encountered With Community Organizations
Experiences With Other Organizations Across the Communities
Rethinking How To Work With Community Organizations

Chapter 12. Promoting Communitywide Tobacco Control Activities by Involving Schools (PDF, 192 KB)

Intervention Activities and Process Objectives for Schools
Implementing School-Based Interventions
Patterns of School-Based Interventions
Lessons Learned From COMMIT School-Based Activities

Chapter 13. Involving Youth in Awareness of, Promotion of, and Political Activities for Tobacco Control (PDF, 192 KB)

Goals, Activities, and Process Objectives For Youth
Involving Youth in Communitywide Campaigns and Intervention Activities
Monitoring and Promoting Enforcement of Regulations on Youth Access to Tobacco
Successful Activities
Enlisting Youth in Communitywide Campaigns
Magnet Events
Monitoring and Enforcing Tobacco Access
Challenges
Lessons Learned

Chapter 14. What Have We Learned and Where Do We Go From Here? (PDF, 128 KB)

Major Lessons Learned
Implications of COMMIT Results on Lessons Learned
Future Directions for Community Tobacco Control
Last Updated
September 24, 2020